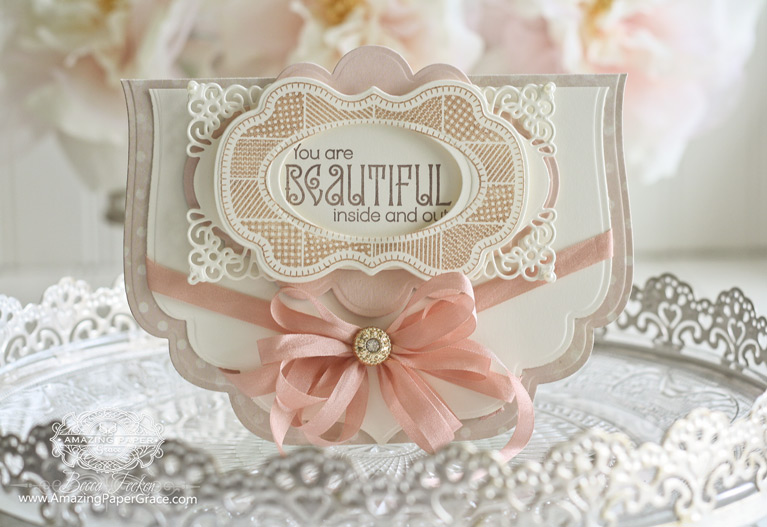 Oh spring fever, why do you do this to me?  Good morning friends, yes I am working on some things in the background but I won't deny that the coming of spring is a detraction.   So today is a short post and hopefully I'll have some gift items to celebrate Easter soon :-)  Please hang in there with me – I hesitate to say what I'm working on because sometimes it takes me a bit to get things off the ground.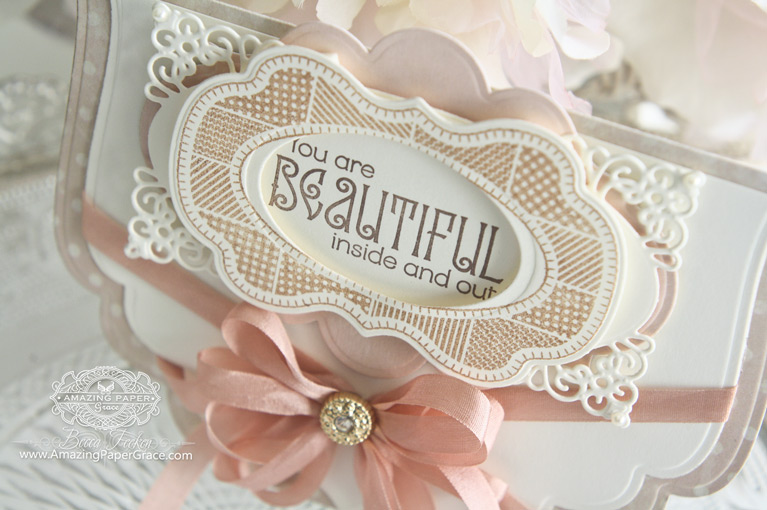 You Are Beautiful
Today I'm sharing a card that when made, I had the hope it would speak to the receiver.  That's what we do when we make cards right?  I'm all about picking the perfect sentiment so that when it held in their hands, inspires them and reminds them of something important.  I'm a huge fan of shaped cards because of the ease!  You have many of these dies in your stash but if you don't there are likely substitutes you can make – for this one I used Spellbinders Grand Labels Four.  For the focal combination on this card I used Spellbinders Labels Twenty on top I layered  Spellbinders Radiant Rectangles and finished with a smaller label like Spellbinders Labels Fourteen or  Spellbinders Labels Eighteen.
About Day of Giving Friday
From the huge stash of cards I've created, I decided to share them with readers rather than let them sit and age.  It's a great review of some of the tools we might not have used in a little bit.  It happens every Friday, where I give away a card to a randomly picked reader who leaves a comment in our conversation about a thought provoking prompt I dream up to discuss – here's a link to my FAQ's just check out #11.     For your comment today – There are so many delightful things around us!  If you could bottle up anything in your day today, just to keep it, what would it be?


I'm brimming with creativity – I just wish I could move quicker!!  Thank you so much for stopping by – I truly appreciate it.  I've missed talking to you all but have a catch up post soon!