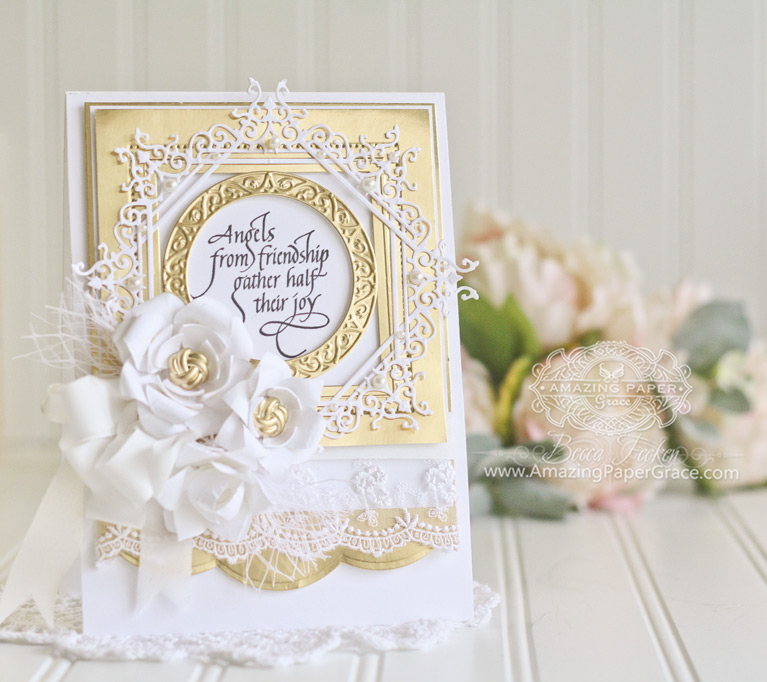 Good morning friends!! Happy Friday and yes, another week has zoomed by and it's Day of Giving Friday with a new card.  Okay, I confess, this week (actually the past couple of weeks) I've been hunkered down designing.  I think hard on these things so I'm normally quiet when I'm creating.   On the crafting side, I've been diecutting all kinds of flowers to try  with spoons and am delighted at how easy it is.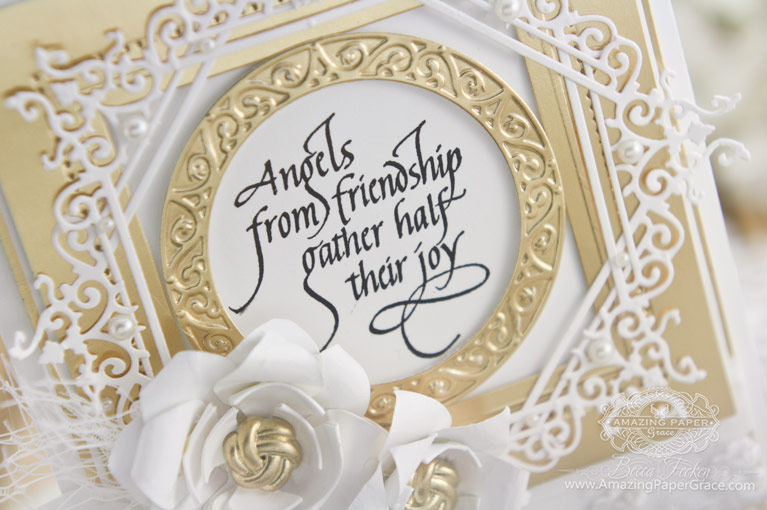 What Makes the Card
Today I'm sharing a gold and white card and toyed around with a new set of flowers called Spellbinders Sweet and Succulent Contour die.  As with the other spoon flowers, I shaped the petals then curled back the pointed tips using the two smallest sets of petals.   For the insides of the flowers I did something different, I folded the petals in half then shaped with a burnishing tool.  The basics can be seen in my video about Spoon Flowers.
I pulled one of my favorite Quietfire Design stamps with the Angels from Friendship sentiment that so smartly fit within the round frame I was working with.  It is bordered with Spellbinders Blooming Collection and Spellbinders Pierced Squares with a sweet scallop on the bottom using Spellbinders Scalloped Borders Two.
About Day of Giving Friday
I have a rather large stash of cards and last year I decided to share them with readers rather than let them sit and age. So, every Friday,  I give away a card to a randomly picked reader who leaves a comment in our conversation about a thought provoking prompt I dream up to discuss – here's a link to my FAQ's just check out #11.     For your comment today – We use technology and the internet more and more each day.  You'd not be reading this post if not for the internet.  How has the ease of having the world at your fingertips changed your crafting?


Rubber Stamps: Quietfire Design – Angels from Friendship
Craft Paper: Neenah Classic Crest Solar White – 80 lb smooth, The Fine Touch Metallic Poster Board
Ink:  Versafine Onyx Black
Accessories: Spellbinders Sweet and Succulent Contour die, Spellbinders Blooming Collection, Spellbinders Pierced Squares, Spellbinders Scalloped Borders Two, silk ribbon, Recollection Pearls, Lace, Buttons


I want to encourage you to pour your hearts into your handmade cards.  They are so worthy of giving and the reward cannot be counted.  I'm grateful that such an endeavor brings us together – a priceless gift.  Thanks for stopping by friends.