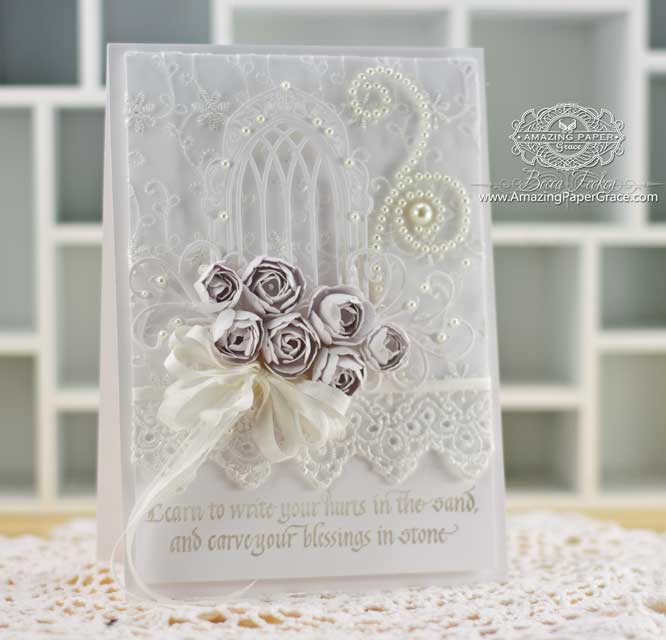 Good morning sweet friends!  Can I just gush and say that I found out last weeks Day of Giving Card is destined for Africa – waving hi to Carol!  (My first to Africa although many to the UK, Spain, Canada and Australia).   What a blessing that through our craft we reach out to friends all over the world.  As I sit to my desk this morning someone is putting the final touches on a handmade card half the world away.  What a joy!  So today is Day of Giving Friday and a new card to give away (if you are new you can read about Day of Giving Friday on my FAQ List at #11).  I heard a quote yesterday that I think applies to you all as people and crafters – "Talk to yourself like you talk to someone you love".  I heard it in a speech I was listening to and it was earth-shattering!  We all put ourselves out there every time we create a card and sometimes were not so kind to ourselves.  Make no mistake – there's something special, beautiful and unique that each of you bring to your craft that is your personal signature.  Be sure to explore that something special, and don't compare it to anyone else – that's your thing – it's your blessing.  I can't tell you how much you all have touched my life – you're my buddies and I know the beauty that lives in the gracious souls that stop here and that I chat with behind the scenes.  Gush!!
For your comment today:  Be brave, tell me what you love about your card own style.  If you're shy, you don't have to answer but remember – talk to yourself like you talk to someone you love :-)
Can I just tell you as I go through the bins to pull cards for Day of Giving, it's like hunting treasure.  It immediately brings back memories of when I made the card.  Todays card is so appropriate for the post I've written.  And it makes me feel wonderful to see it will go to someone to use.  For me this blessing is written in stone :-)
CRAFT SUPPLIES I USED
Rubber Stamps: Quietfire Design – Learn to Write Your Hurts in the Sand
Craft Paper: Neenah Classic Crest Solar White 80lb
Ink: Amuse Studio – Seattle, Pebble
Accessories: Spellbinders Sprigs, Spellbinders Rose Creations, Spellbinders Window Three, Recollection Pearls, May Arts Silk Ribbon, Lace


Hugs and have a super weekend.  I hope to share more turndown gifts in the coming days!