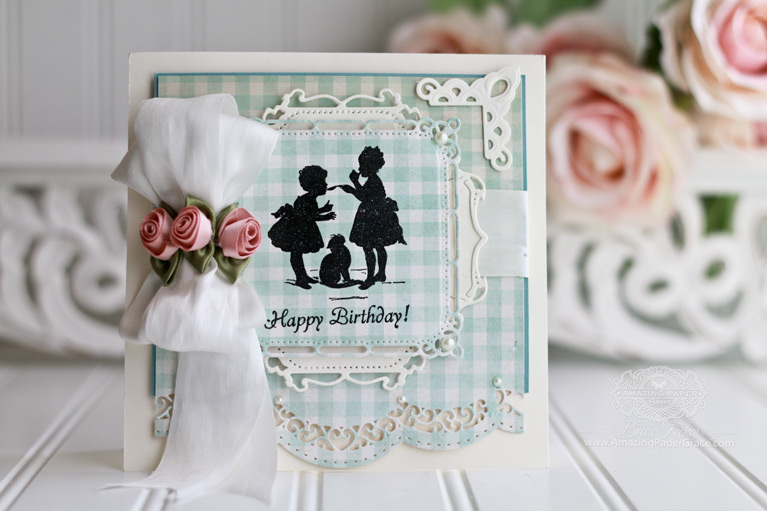 Oops, who thought today was Thursday?  Bingo, me!  I do have a card to share today that is a simple vintage style that I reserve for sending to a vintage friend or a young girl.  I just love silhouetted pictures – the are so classic and the picture tells the whole sweet story.  This is a card I've sent out more than once for just the occasion that I mentioned. Layering and borders always save the day and give so much texture.   Today is Day of Giving Friday! My card shown today is up for grabs to a sweet reader who leaves a comment.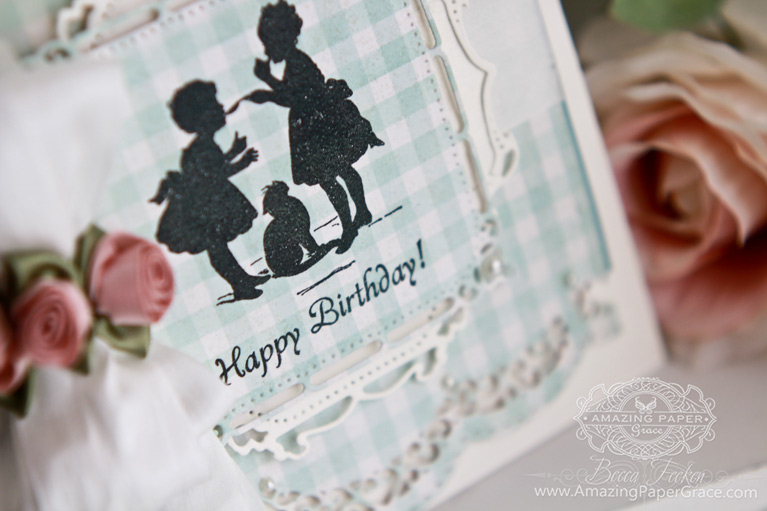 For this card I used some classics.  As with most cards, I started with a card base and added decorative paper matted by a solid layer that is inset roughly 3/8″ from the edge except the bottom edge which uses Spellbinders A2 Scalloped Borders One.   For the next decorative layer I used Spellbinders S4-380 Decorative Labels Twenty Seven and then topped off with my stamped layer on Spellbinders S4-383 Marvelous Square.  Between each of my layers I use dimensional foam tape for some lift and dimension.  Final embellishments include pearls and a bow.   The final size is 6″ x 6″ :-)
For new readers, every Friday it's my pleasure to give away a card.   The card goes to a randomly picked reader (worldwide) who leaves a comment in our conversation. Want to know more about Day of Giving, here's a link to my FAQ's just check out #11. You can check the list of winners HERE!   By the way, I loved reading what everyone collects last week!!  For your comment: What craft would you do if you had all the time in the world?



By the way, I breezed right by the details during the hectic-ness of the week but so wanted to let you know that my trip to Canada was amazing!  Niagara Falls was on my bucket list and was truly spectacular to behold.  My vantage point was from the Canadian side; it was raining buckets but that didn't bother me at all.  To see such God created beauty reminds me to take a second and breathe in life and to forget about the small things petty things that often tug at our attention.  The biggest highlight was the class I got to teach – I met several "Gracelets" that drove from quite a distance to take my class and just knowing they are out there makes me smile.   Why?  Because so much I do is online and it's a beautiful blessing to get to meet you all in person.  I also attended a retreat with some pretty magnificent designers :-)  As always the crew here absolutely makes my day – this week I finally had a chance to show you my book that has been a blessing to make.  You'll see it again because I'm going to make myself use it!!


Stamps: Retired
Paper:  Neenah Classic Crest – Natural White – Cover – 80lb smooth, My Minds Eye (Gingham)
Ink: Versafine Onyx Black Ink and embossing powder
Accessories:   Spellbinders A2 Scalloped Borders One, Spellbinders S4-380 Decorative Labels Twenty Seven, Spellbinders S4-383 Marvelous Squares, May Arts Silk Ribbon, The Paper Studio – Pearls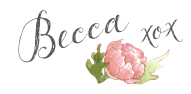 Sending hugs, see you soon!!