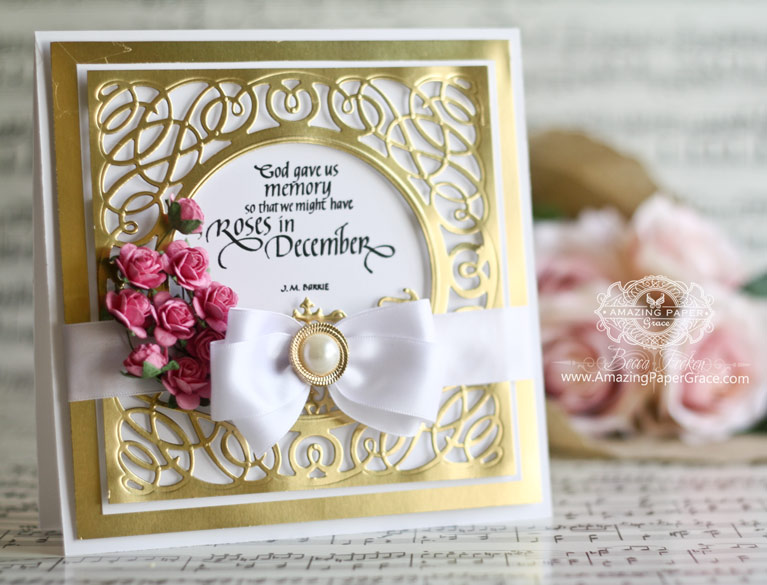 Hello friends!  I hope today finds you safe, well and happy.  So much happens in a week and I know with the crazy weather of late, many of you may be hunkering down for the Labor Day Weekend.   Today is Day of Giving Friday and today I'm sharing one of my favorite sentiments – it was one that I included in one of my past kits and this new one was beautifully penned by Suzanne Cannon with Quietfire Design.  What a lovely statement about the power that memory has to evoke something so very lovely . . . a flower, a song, the thought of a loved one.  That's within our power; queue up those lovely memories!
My card today is simple, two dies;  I'm using a die I designed called Spellbinders Intertwined Spirals and within the lower part of the aperature I filled in with a filigree corner die.  Any large corner die should work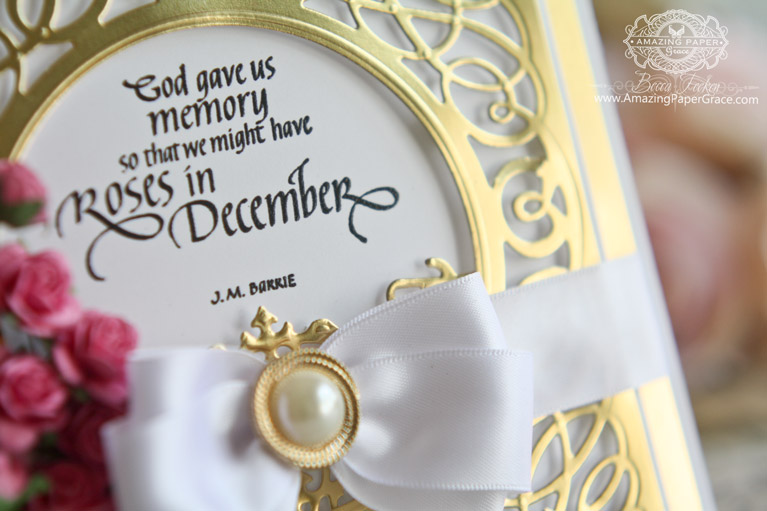 Walk Through on How to Make Card
Base
The card base is 7″ x 7″ (custom envelope make with the Envelope Punch Board).  Easily downsizes to 6″ x 6″.
Focal Panel
On top of my card base I added a panel 6-5/8″ x 6-5/8″ followed by a panel 6″ x 6″.
Next  I added my diecut panel with Spellbinders Intertwined Spirals, cut as an inlay, including the circle and trimmed it down to 5-3/4″ x 5-3/4″  On the lower part of the circle I added Amazing Paper Grace Filigree Corners die (retired) to fill in.
Embellishment
I finished up with a triple bow,  pearl button and a spray of mulberry roses.
About Day of Giving Friday
For new readers, every Friday it's my pleasure to give away a card.   The card goes to a randomly picked reader (worldwide) who leaves a comment in our conversation. Want to know more about Day of Giving, here's a link to my FAQ's just check out #11.  You can check to see if your name is on the list of winners HERE.  For your comment:  Recalling sweet memories is lovely ability, what are your so called roses in December?


Rubber Stamps: Quietfire Design – God Gave Us Memory
Craft Paper:  Neenah Classic Crest – Natural White – Cover – 80lb smooth***,  The Fine Touch Gold Poster Board
Ink:   Versafine Onyx Black
Accessories: Spellbinders Amazing Paper Grace Intertwined Spirals, Amazing Paper Grace Filigree Corners (retired), Paper Source Satin Ribbon, Button from my stash, Mulberry Roses
(***Note, many of you ask which paper I use for my cards and I have linked it up above to Amazon however, absurdly, the picture they show is a generic photo they use to represent every paper.  I have ordered from this link and can confirm that what I received was Neenah Classic Crest – Natural White – Cover – 80lb smooth – 250 sheets.  For an avid cardmaker, a ream will last quite long – I order every 6 months).   Here is the link for the white paper I use – Neenah Classic Crest – Solar White – Cover – 80lb smooth)


Today is the most gorgeous day we've had in so very long!!  What a miracle seeing as a hurricane came through here last night.  It's truly the beauty after the storm.  Have a lovely holiday weekend friends and a lovely weekend to my friends abroad.  See you soon!!