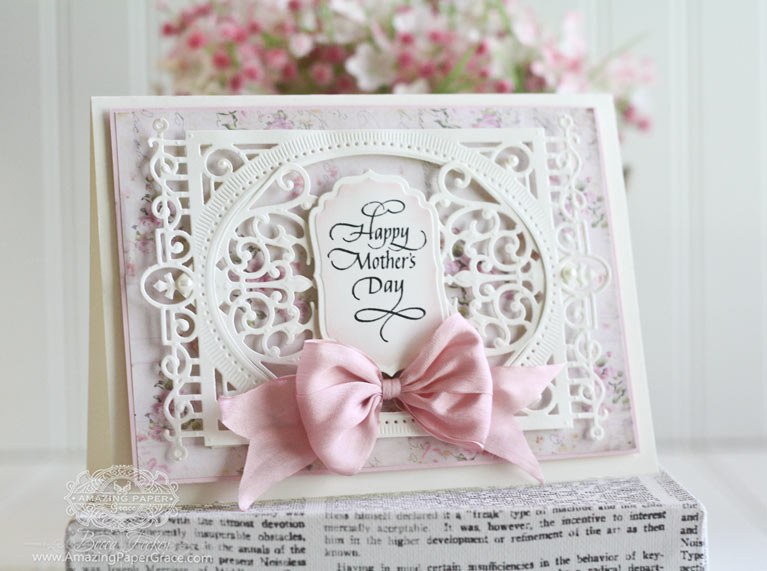 Okay, a little bit of catch up.  I'm a one woman show so when I need to focus I drop off of the radar for a bit.  I'm popping back up on radar now!  So many of you send a note just checking and I thank you – I'm so very touched.  Months of work – I've just finished designing new dies and they are going to blow your mind!  These are a bit off in the future but keep your fingers crossed for me that they get approved.  I've put my heart and soul into it and of course, you all weighed in earlier this year when you participated in my survey.  I'm listening and I think you'll be pleased with what I've come up with!
For my first day off in a long, long time, this weekend my sister is flying in and I'm actually going to spend a girls weekend filling up on inspiration. I'm itching to create so I'll definitely see you on the other side of my weekend.  In the meantime I have a card to share and to give away in anticipation of Mother's Day!  . . . it's coming!  Are you ready?  Other than the reason that Mom's are simply awesome, what a wonderful occasion to show your love!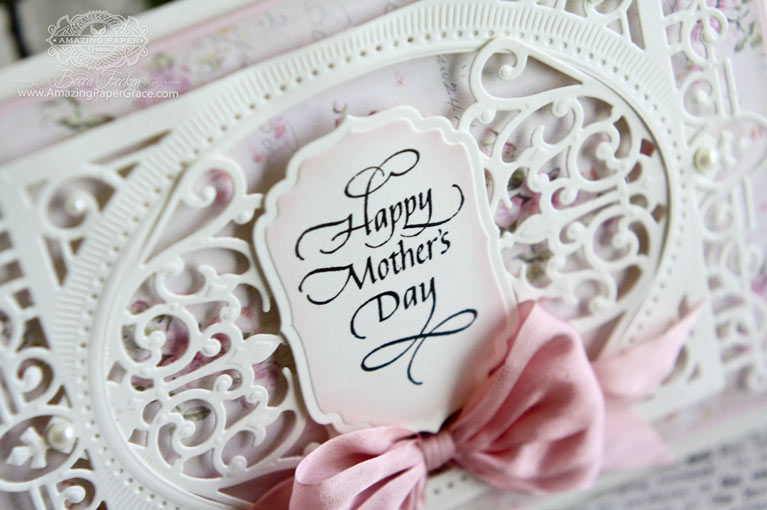 How It's Made
For my card today the main focal point is Spellbinders Heirloom Legacy die template turned on it's side.  Just inside the oval I tucked two filigree corners – although this die is discontinued a great substitute is Spellbinders Corner Flourish Two.   The sweet sentiment is from Quietfire Design and it's stamped on Spellbinders Labels Four.  I get the rosy halo around the sentiment by keeping the paper in my die and using a Distress Ink Blending tool that I've lightly touched on my ink pad (Victorian Velvet Distress Ink) and stenciled by pulling the color from the outside of the die to the inside with a sponge with a very light touch.
About Day of Giving Friday
This card is up for grabs today to one of my sweet readers.  Every Friday, I give away a card to a randomly picked reader who leaves a comment in our conversation. Want to know more about Day of Giving, here's a link to my FAQ's just check out #11.     For your comment today – How are you planning to share your love on Mother's Day?

Rubber Stamps: Quietfire Design – Happy Family Days
Craft Paper: Neenah Classic Crest – Natural White – 80 lb Cover, Digital Paper – Iralamija Etsy Shop 
Ink:  Versafine Onyx Black, Ranger Super Fine Detail Embossing Powder, Victorian Velvet Distress Ink
Accessories: Spellbinders Heirloom Legacy, Spellbinders Corner Flourish Two, Spellbinders Labels Four, May Arts Silk Ribbon, Recollections Pearls

That's it for me today, I'm heading to the airport.  I'm not sure what the plans are but I'm excited!!