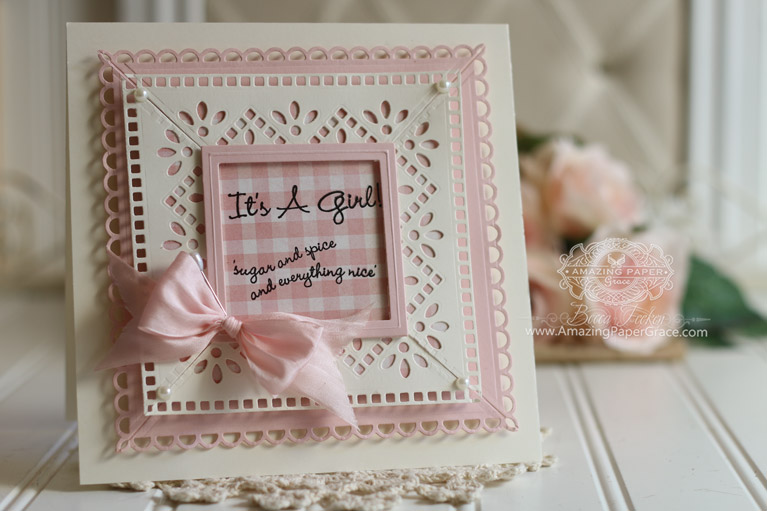 Sweet friends – hello!!  It's that time of the year again when I'm getting ready to go to CHA.  I'm buried in all kinds of projects.  I've designed three new make and take projects that I'll be demoing as well as samples for Graceful Borders and samples for another die collection that will be available in March 2017.  My hands are full!  I'm missing being here but once CHA has passed, life will be back to normal (did I really just say that – there never is normal!)   By the way, Happy New Year!!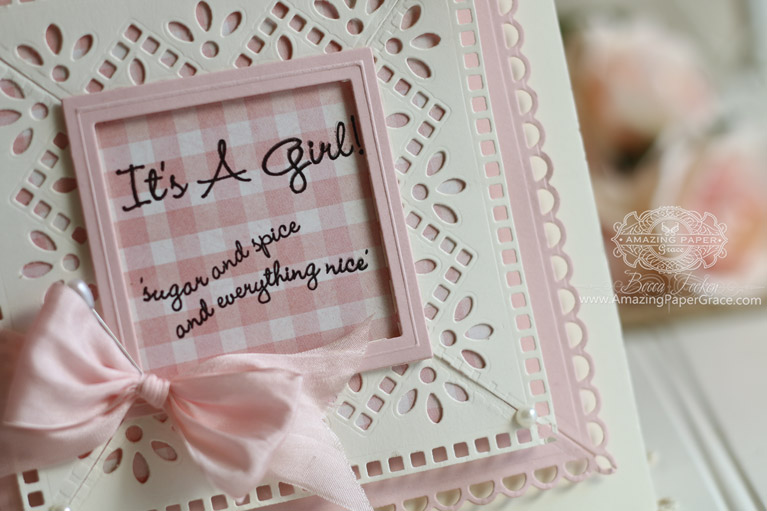 Today I'm giving away another of the cards made with Graceful Borders – it's a delicate baby girl card.  You know I'm in love with the ability to do eyelets and I shared a sweet baby boy card HERE.  These are framed cards, my favorite, made using a die that cuts all four pieces of the mitered frame at the same time. My last post HERE has links to the entire set of dies based on availability – in the mean time the dies used on this card are Spellbinders Graceful Eyelets on the top layer and Spellbinders Graceful Brackets (for the tiny scallop) on the bottom layer.  This is made using  Spellbinders Graceful 6 x 6 Frame Maker however it could just as easily be made with the border strip at the top and at the bottom :-)
About Day of Giving Friday
For new readers, every Friday it's my pleasure to give away a card.   The card goes to a randomly picked reader (worldwide) who leaves a comment in our conversation. Want to know more about Day of Giving, here's a link to my FAQ's just check out #11.  You can check to see if your name is on the list of winners HERE!  For your comment:  What's the best thing that has happened to you so far in 2017?


Stamps:  Stampendous
Craft Paper:  Neenah Classic Crest – Solar White – Cover – 80lb smooth, Paper Trey Ink –
Ink:  Versafine Onyx Black  and Clear Embossing Powder 
Accessories:    Spellbinders Graceful Eyelets, Spellbinders Graceful Brackets, Spellbinders Graceful 6 x 6 Frame Maker, Recollection Pearls, May Arts Silk Ribbon

Will I have the pleasure of meeting any of you at CHA?  If so tell me in your comment so that I can be on the look out :-)