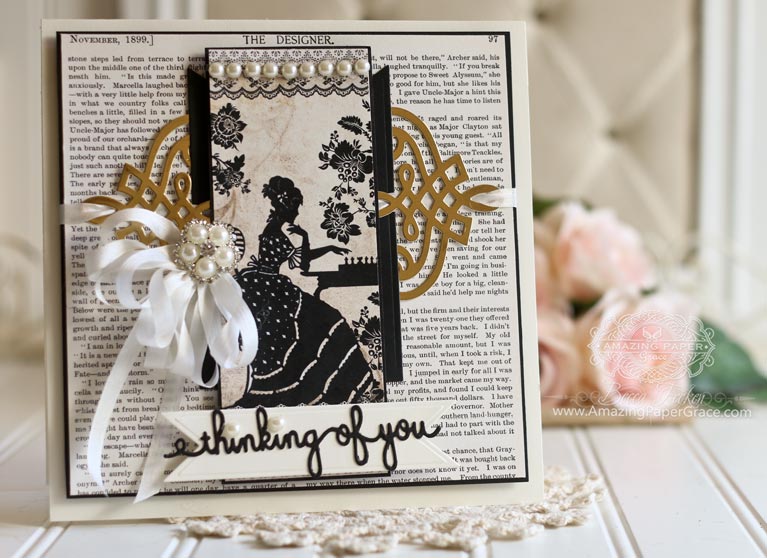 News flash:  I'm getting caught up – Nine new card winners have been listed on my Giveaway Page – they have an * in front of their names so that they are easier to find.   Slowly but surely all the prizes are being sent out – please bear with me – it was a busy, busy fall :-)
Whoa Betty, it seems like we just turned the corner into a new year and now the days are flying by like there is no tomorrow!  I'm tickled to be here today and wanted to share a card created last fall that will fit the bill for many of the holidays coming up.  There's still time to make Valentines Day Cards but as soon as that is done, it's time to collect ideas for Easter and Mothers Day.  My card today was created with some of the extra special pieces that go along with the Spellbinders Graceful Frame Maker; those are fairly big accent pieces.  I simply love the flourish that is included because it's a strong enough accent to bookend with any other shape to make a great focal point and I was able to thread ribbon through it.   A regular in my stash are the cursive sentiments that fit almost any occasion – this one is Spellbinders Spellbinders Sentiments 4, and it is mounted on the double ended tag from Spellbinders Decorative Swallowtail Tags.   So let's run through this. . . I created a cream card base, added the matted text panel, positioned two of the Crisscrossing elements from the Frame Maker set (cut in gold) then on top added a pointed element like Spellbinders Arched Swallowtail Pennants (cut in black) with the points at the top of the card.  Then, I threaded ribbon through the appropriate holes.  Next  I added the matted lady element, added the double ended tag and topped it with the cursive words.  To finish, I glued a bow on top :-)
This is a huge card (will measure and post the size) that requires a custom envelope – I either send in a bubble wrap catalog envelope or I make a special one using one of the envelope boards on the market.  I have a host of digital elements that I use quite often, so the background digital paper is a free download and can be found HERE and the lady digital is a purchased element that can be found HERE.
About Day of Giving Friday
For new readers, every Friday it's my pleasure to give away a card.   The card goes to a randomly picked reader (worldwide) who leaves a comment in our conversation. Want to know more about Day of Giving, here's a link to my FAQ's just check out #11.  I'll be updating the list of winners this weekend so be sure to stop back by to check the list of winners HERE!  For your comment: My favorite time to sit down and make a card is …


Stamps:  None
Craft Paper: Neenah Classic Crest – Natural White – Cover – 80lb smooth, Papertrey Ink – Black, Gold Poster Board – Hobby Lobby, Digital Paper – Antique Lady, Text Print
Ink:  None 
Accessories: Spellbinders Graceful Frame Maker Tool, Spellbinders Sentiments 4, Spellbinders Decorative Swallowtail Tags , Spellbinders Arched Swallowtail Pennants, Recollection Pearls, May Arts Silk Ribbon
Spring is not far off, I promise :-)  Have a good weekend and if you are having chilly weather – stay cozy and warm.