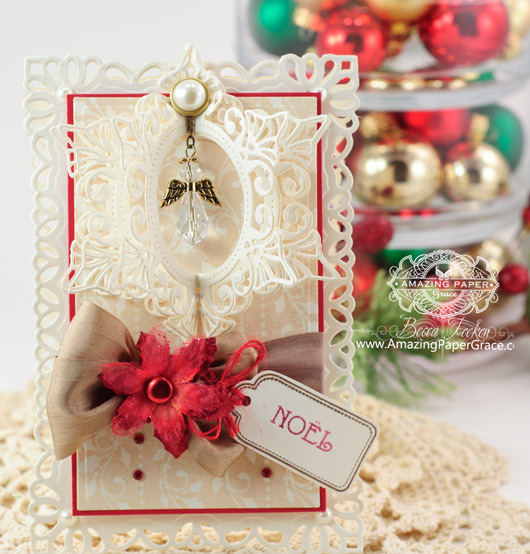 Good morning sweet friends!  I hope you're having a magnificent day.  Today I'm sharing I card that I thought would never make it to the finish line.  Yes, I have those days :-)   This card has gone through so many changes over the last two days, that it doesn't even resemble what I started out with, but I'm so glad I finished it.  Originally stamping the background in green with green ribbon, my camera freaked out and there was no way to make it work – it glowed like Kryptonite.  Lol, I think this card was photographed more than my youngest child (is that sad or what?)  At any rate, sometimes after a trashcan moment, there is a spark of serendipity.  Originally I had a flower inside my card ornament and then I remembered I had these sweet crystal angels that I've been dying to use.  Other than the color/embellishment struggle, this is really an easy card that is 99% die cuts.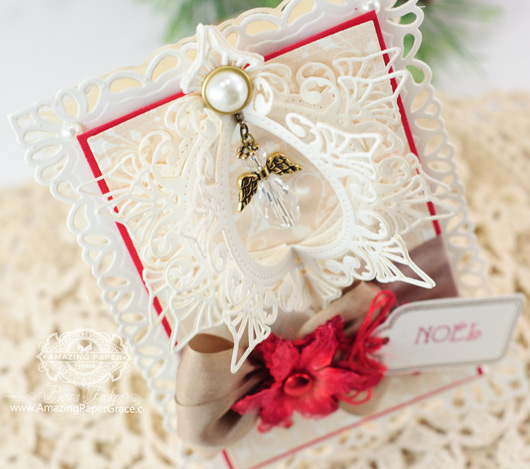 Here's how I made it – step by step:
The top of the card uses Spellbinders Venetian Motifs to make what I call a half flat ornament – and rather than explain step by step how to do that part you can see my older card HERE and the step by step with pictures that I posted HERE (instead of gluing closed, simply glue to card).  I created a card base using Spellbinders Resplendent Rectangles and you can read how I construct my hinged filigree card bases HERE.  I stamped with JustRite Holly Garlands Background and cut into a panel using Spellbinders 5 x 7 Matting Basics A #3, for the red pop matted color I cut a panel to 3-1/8″ x 5-1/8″.  Next I added ribbon, crystals, flowers and stamped then cut the tag from JustRite Applique Christmas Labels One.  The crystal angel (from Joann's) was threaded on to a headpin and a loop made at the top to which I added a jump ring and chain.  At the top of the chain is another jump ring.  I simply took a pearl brad and put the brad through the top jump ring then through a hole at the top of the die to secure it.  If the recipient wants to use the Angel for something, all they have to do is remove the brad and voila!!   The card does flatten out so that it can be mailed, but I would put it into one of the little DVD boxes like I showed you HERE.
CRAFT SUPPLIES I USED 
Rubber Stamps: JustRite Papercraft – JustRite Holly Garlands Background

,

 JustRite Applique Christmas Labels One
Craft Paper: Neenah Classic Crest – Natural White – 80 lb, PTI Red
Ink: Fresh Ink – Merlot, Amuse Studio – Latte
Accessories:
  Spellbinders Venetian Motifs, Spellbinders Resplendent Rectangles, Spellbinders 5 x 7 Matting Basics A #3, Strung Beads – Joanns, Prima Flowers, Gold Brad – Michaels, May Arts Silk Ribbon,
Grand Calibur Die Cut Machine
Thanks as always to my wonderful, wonderful readers.  I feel like I've know you all forever!  I'll see you soon!!