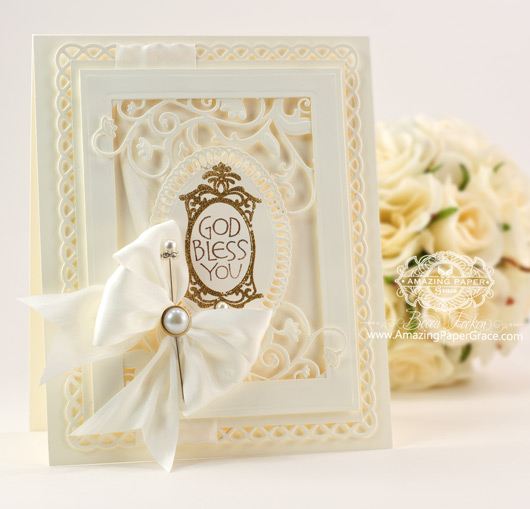 Good morning sweet friends!  Thanks for stopping by and thank you so much for your kind words.  You have no idea how much you lift me up . . . as I read through comments over the past couple of days I want you to know how much you bless me.  Some days I do struggle for inspiration but once I see my friends here, that struggle melts away.  If I've been able to inspire you it is but a small token for all I that receive in return.  If you don't comment, never worry about that, you bless me nonetheless.  Thus the inspiration for my card today, I hope you are blessed every day and in all you do.  I wanted a crisp clean, framed arrangement all of one color.  I hunted through my sentiment stash for God Bless You and found it among my Wordsworth stamps!


Here's how I made it – step by step:
Start out with a card base that measures 5-3/8″ wide – 6-1/2″ tall.  Cut a panel 4-1/4″ – 5-5/8″  and cut/emboss 2 of Spellbinders Fancy Weave – cut Fancy Weave on each long side and apply to the back of the cut panel to make a border – patch any gaps with the second Fancy Weave then apply ribbon and adhere panel to base with foam tape.  Next cut/emboss Spellbinders Matting Basics A #5 and #7 at the same time.  Cut/emboss two Spellbinders Garden Weave and adhere to the back of frame created with Matting Basics then adhere the grouping to the card base using double foam tape.  Cut/emboss small oval from Spellbinders Elegant Oval and stamp sentiment – adhere to base using a triple layer of foam tape.  
Bless you my friends and have an awesome weekend!  I'll see you soon!
Question Parking Lot
Carole Thrasher on Comment #41 asked why sometimes the link does lead to the correct item *lately*.  Carole, thank you so much for pointing this out to me . . .  I would be totally lost if you all weren't my eyes and ears.  To be totally honest the error in linking was just an over sight.   I had started copying links and editing their destination instead of typing them by scratch – it takes a while to get things linked up but it sounds like I have to go back to the old way.  Gonna go back over the last two weeks of posts to make sure they are all correct.  So sorry for the frustration, sweet friend.  In the meantime, thanks for pointing this out to me and if you ever find an incorrect link, please don't hesitate to drop me a line through the contact tab at the top of the blog so I can make the correction.  I'd sure rather know :-)
Edited to add:  Oh Carole, I went back and did have to change about 5 or 6 links to point to the correct product, arrrggh!!!  Thank you.  I always appreciate the friend that will let me know my slip is hanging or if I have something in my teeth.  That's exactly what you did :-)