Sweet day blog friends.  I hope today finds you well and full of adventure.  June is here, can you even believe it?  So, for my card today I reached in the stash for a little bit of inspiration.   It's so true that courage does not always roar, indeed trying again is an act that is brimming with courage and faith.  It was such a blessing that Suzanne with Quietfire Design turned one of my very favorite quotes,  Courage Does Not Always Roar into a stamp.  I know you're with me on this, sometimes just the act of stamping, preparing this for someone else and reading the words over in my head makes it resonate in my heart.  This goes into the stash for the next time someone (or me) needs lifting – there will be one, but I will be ready :-)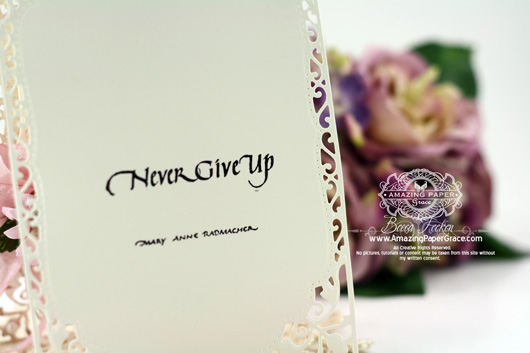 The card measures 4-1/2″ x 6/1/2″ and uses Spellbinders Elegant Labels Four.  The second layer is made by cutting Elegant Labels Four and Spellbinders Labels Four at the same time – it creates the perfect matching opening for the frame.  A flower made using Spellbinders Jewel Flower and Flourishes for an embellishment finish the front and the second part of the sentiment for the inside of the card. I took a little creative license and stamped the quote's author on the inside of the card with the inner sentiment so that it wouldn't be covered up.  The paper (ByDigitalPaper – Flower Lady) that I used for this was so pretty that I dare not cover it up.  So today, with two layers, it's truly a simple card.
A Note About Printing:
No recap today because the card is so simple but I'll walk you through my workflow for printing and hopefully answer a couple of the questions that have been coming in to me.  I've had notes from several people about printing digital paper and as this was a full size sheet, printing could not have been simpler.   I copied the .jpg file to my desktop and on my Windows laptop, I right clicked the file name and a menu comes up.  To use the picture printing resident in Windows I selected print from the menu. Because it is a .jpg file the program assumes I'm trying to print pictures and gives me a choice on size and a multitude of other settings.  I simply said to print full sheet to my small Epson XP-300 Inkjet printer.  I printed it out on the Georgia Pacific White Cardstock that can be purchased at Walmart.   Although I'm very happy with the printer, it was not a purchase I researched thoroughly as I picked it up at Walmart when I was visiting my daughter and we needed an inexpensive printer, quickly.  So there you have it, I did no cropping or resizing (this time) because I needed a big area to cut from this delicious collage paper.
Savor the day!  I'll see you tomorrow :-)