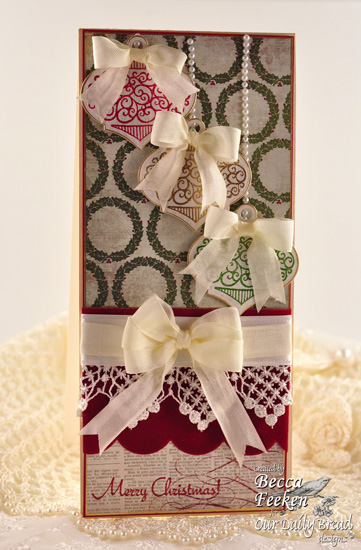 What a glorious Sunday!  So glad you stopped by sweet blog friends – I have a quick card to show and am working on lots of things for the upcoming weeks.  I hope you are in the mood for another Christmas card – I really haven't made many so I'm still tickled when I get the chance. 
In perusing my paper supply are you surprised to know that my Christmas paper makes up about a third of my stash?  I sure don't know how that happened, but I as an admitted hoarder of design paper, I must be a bigger hoarder of Christmas paper.  I hope you'll indulge me – I didn't send out cards last year and I have vowed that mine will be in the mail by November 20th this year.  Uh oh, I actually wrote that – I guess I'll have to be accountable now   (Small hint – I've given up thinking that absolutely everyone of them must be handmade originals – are you shocked??)  Yes I do send out quite a few originals and for the rest, I went half way and got a kit that will involve some stamping, but all the pieces and parts are all there.  I'm really curious to hear what you all think of kits :-)

My card today is from an Our Daily Bread Designs set that was released this month called Holiday Ornaments.  These are quick ornament to make because they match Spellbinders™ Holiday Tags.  I have to admit that for the first time in my crafting life I managed to make one of those gold rimming pens work.  I can't tell you how many of them I've purchased only to lay them down and have them eventually clog up because they (or maybe it was me) couldn't do a consistent outline with out splotchy starts and stops and globs.  I lined each of my paper panels with the pen as well as each of the ornaments.  It makes for a nice, simple, clean finish to the ornaments – I love it.  I also managed to work in some of the velvet paper I love and finished it off at the bottom with Spellbinders™ Classic Scalloped Edgeabilities (you can hardly tell but I rimmed that with gold too at the top).    I have a translucent vellum envelope for this one.  I snagged several boxes of #10 sized vellum envies at Office Depot a couple of years back and at the time it seemed odd place to find vellum – an odd size too.

SUPPLIES I USED
Stamps: Our Daily Bread Designs – Holiday Ornaments
Paper:  My Minds Eye – Bazzill (Ruby Red), Velvet Paper
Ink: Colorbox Chianti Pigment, Versamark, Versacolor – Leaf Green
Accessories: Spellbinders™ Holiday Tags, Spellbinders™ Classic Scalloped Edgeabilities, Lace, Seam Binding, Satin Ribbon, Recollection Pearls, Krylon Gold Leaf Pen,

Well, that's all for me today, back to work on more Christmas crafties!!  Have a fab day!!