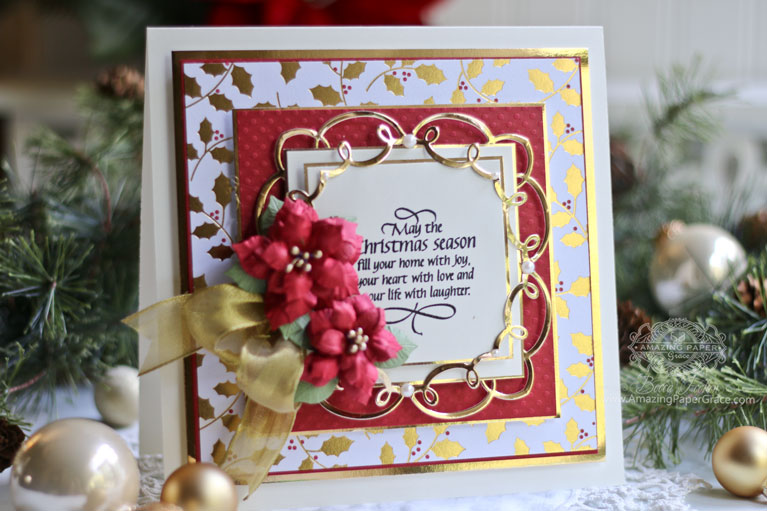 I love it when the holiday season is ramping up.  There are so many sweet spots found in what you do along the way.  From thoughts of gratitude to spreading cheer to reaching out to the friends.  Linger in those sweet spots!  I hope you are in that sweet spot of savoring the fall days as we march towards the end of the year.  I've recently released A Charming Christmas and continue to sit down and make cards when I have time.  Here is another one for this years  Christmas Card Making Season.  This one features Charming Christmas Boughs, Cinch and Go Pointsettias and a new sentiment from Quietfire Design – May This Christmas Season.

Christmas Card Making Season:
When I designed Christmas Boughs I wanted something like calligraphy that I could tuck a piece of paper into.  This is an open design that you can layer with and get a couple of different looks depending on the way you insert the paper.  Turns out it's a pretty good sentiment holder.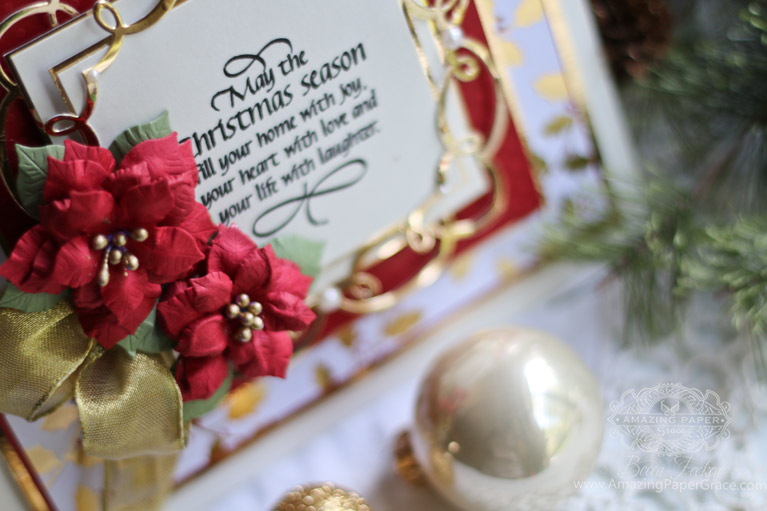 I'm tickled to have a different poinsettia to use this year.  This one is done in the tradition of the other "Cinch and Go" flowers which makes it easy to put together plus its a little bit more realistic.  I can put these together pretty quickly although I'd never call myself a flower expert, lol.  They are gradually sized and all you do is thread them on a pearl or with some stamens.  I've even included a strip you roll up and put in between each layer to give it some height in between the layers.  I love how that works.



Every holiday I settle on colors that I use through out and so far, traditional seems to be resounding with me.  Who knows, it may change bt traditional always seems to be my starting point :-)


Stamps: Quietfire Design –  May This Christmas Season
Paper:  Neenah Classic Crest – Natural White – Cover – 80lb smooth, Gold Foil Paper
Ink:  Versafine Onyx Black and clear embossing powder
Accessories:  Amazing Paper Grace Dies by Spellbinders, Charming Christmas Boughs, Cinch and Go Pointsettias, pearl stickers, gold Ribbon 


A Pin for You


I'm so grateful for you all.  I'm so grateful for the sweet life I have.  I hope you are beginning to savor the upcoming season!  Big hugs!