Hello friends, it's a busy day today – if you are looking for the Our Daily Bread Designs Blog Hop and entry for Blog Candy – click HERE.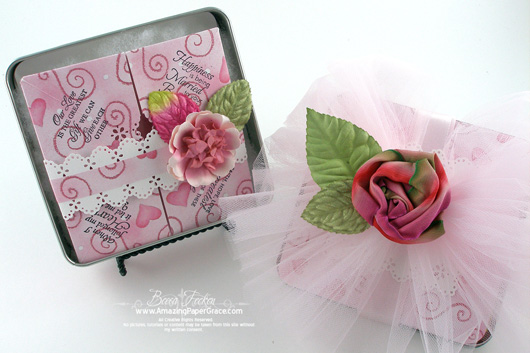 Hee. . .Hee. . .I just love that title, it's totally silly. For today's Blog Hop I went back to my childhood and chased after this project with wild abandon. No, it's not like the things I normally do, but ya gotta have fun, right? I wanted to make something silly and syrupy sweet for my hubby for Valentines Day, so this is what I made.
It's a cootie catcher with a belly band! I was undecided whether to put it in an envelope so I put it in a recycled tin. All the way in the center I've used flowers from JustRite JB-09710 Beautiful Blossoms and JustRite JB-09715 Breath of Spring. To accompany those flowers I used the sweetest sentiments from JustRite JB-09720 Romantic Sentiments and JustRite JB-09725 Loving Thoughts.
Here you can see the pretty flowers and sentiments on the inside flaps . . .



Lastly, here is what my paper looks like after all the folding and embellishments are in place.



Project Recipe:
Stamps: JustRite Beautiful Blossoms, JustRite Breath of Spring, JustRite Romantic Sentiments, JustRite Loving Thoughts
Paper: ProvoCraft, The Paper Company
Ink: Memento Tuxedo Black, Memento Cherry, Memento London Fog
Accessories: Martha Stewart Eyelet Border Punch and Corner, Recycled Tin, Ribbon, Tulle, Prima Leaves, Prima Flower, Variegated Ribbon
All of the other JustRite Designers have fun stuff to share today as well. Here are their blogs so that you can hop over and see their marvelous creations.
JustRite Inspiration Blog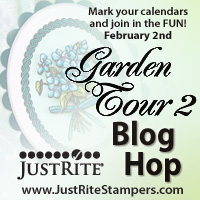 Becca Feeken
Kellie Fortin
Sharon Harnist
Debbie Olson
Heidi Blankenship
Kathy Jones
Michele Kovack
Michelle Wooderson
Sharon Johnson
Angela Barkhouse
Barb Schram
Thanks for stopping by! Tomorrow I'll be posting a diagram for the twist top box – finally :-)