I have another card to share with you from the Peace on Earth set, newly released by Our Daily Bread Designs. As soon as I saw this dove, I knew that I wanted to make the simplest card possible using it. With three different scriptures in the set, initially it was a tough choice which one to use but I soon settled on the Matthew 5:9 verse.
This dove is so serene…I stamped it and the verse onto transparency that I had already cut with a circle cutter – the ink of course, was black Stazon. On the underside of the transparency I painted the dove with several coats of shimmery acrylic paint. This card is almost modular, all the pieces were cut and put together including the bow being tied before the clear image of the dove was put into place with a couple of glue dots. I could easily stamp some of the other images onto circular cut transparency and trade the images out. Although you can't tell from this angle, the gold brads are paired with rondelles I raided from my beading supplies; they elevate the gold brads and add extra shimmer when looking from the side. The corners of the card are metal corner pieces that are pressed into place. The base of the card and the embossing are done on 90 lb watercolor for the oomph needed to get the embossing to pop, and the base paper is shimmery (camera doesn't do it justice) melon colored paper from The Paper Company.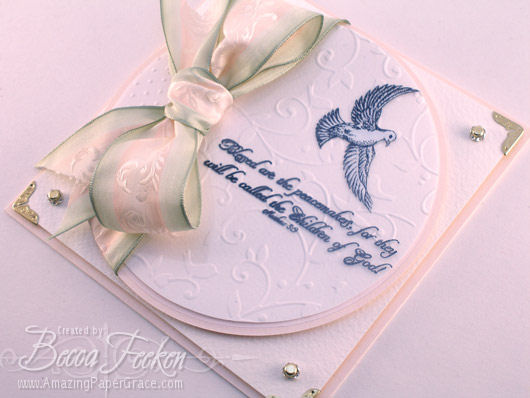 Yesterday marked the release of three new sets and one additional prayer stamp at Our Daily Bread Designs. Pop on over to see the sets in their entirety and remember that throughout the month I'll be showcasing projects and cards from each set.
I hope your weekend is blessed with good family time and sweet rest!
Supplies:
Stamps: Our Daily Bread Designs
Paper: The Paper Company,- Melon, Clear Transparency, Fabriano Acquarello 90 lb
Ink: Stazon – Black
Accessories: CIrcle Cutter, Cuttlebug, Brads, Corners, Ribbon