Today is a release day for three new stamp sets and one single available through Our Daily Bread Designs, be sure you click over to the website so that you can see the pictures of each set in their entirety. Today, I'm sharing with you a project I made that it not just a card, it's a note card set that is designed to be given as a gift. The scripture on my project is from the Hope set which is a set designed with scripture and a ribbon stamp that works particularly well for Cancer Awareness and cards for loved ones or friends that are battling cancer. In fact, there is a different ribbon color for every type of cancer – we are all familiar with pink for breast cancer but there are many others – you can check them out at Products For the Cure.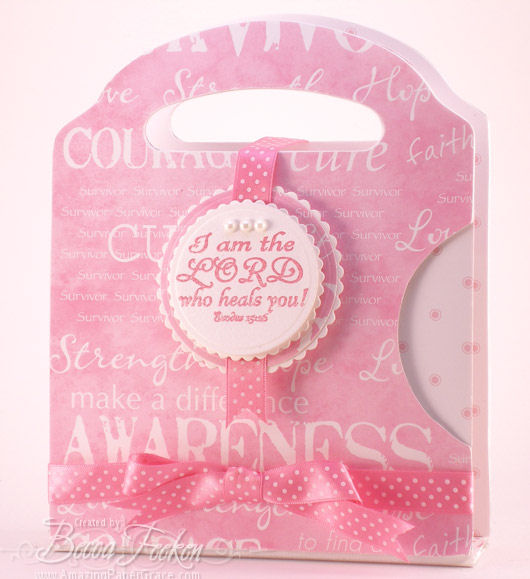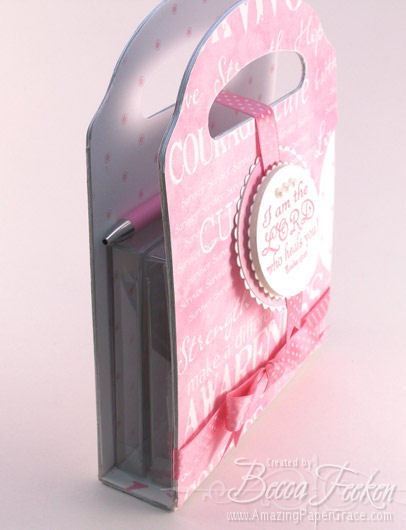 I didn't do a tutorial or have any directions for this because I was experimenting as I went along, but once I tell you how I got there, you can do the same. The base for this project is a childrens board book. I was browsing through the bookstore and came across the book and it had a handle so a child could tote it. It immediately went to my mind that it could be altered! I tore out two of the board book pages at a time keeping the binding on the left edge and then I glued the two pages together. Isn't it cute how the book came with a pocket – pure serendipity! – I thought it would be perfect to tuck in stamps – so I decided that would be the front of the project. I tore off two more pages for the back and glued them together, then I cut two pages down to 2 inches wide for the bottom. I went in the medicine cabinet for some silk dressing tape and used that to join the front to the bottom to the back leaving just a tiny bit of space so that each panel could flex. Then I set about the task of covering the project on the inside and outside – it was easy with white glue and once dry I followed up by sanding off any protruding paper edges with a nail file to even things up. Before gluing though, I added my front ribbon and ribbon on the closing medallion.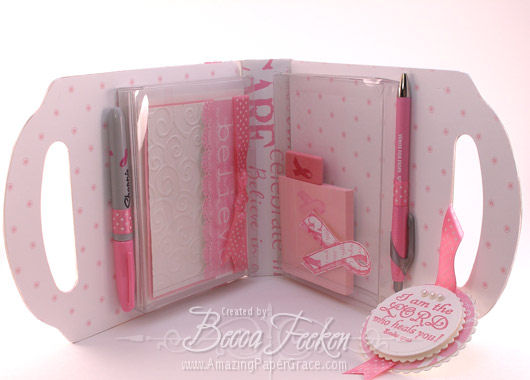 The clear boxes are the boxes the ODBD Stamp sets came in and I simply glued them to the inside of the project and then inserted a piece of DP into the box to camoflage where I placed glue dots. Before gluing I placed loops for my pens. Lastly I put velcro on the front and behind the medallion so that closing the portfolio would keep things secure.

Before I give this to a friend, I tucked in a book of stamps and filled the inside with notecards…I hope she likes it!
The design paper used on the outside of this project and the accessories used in my Note Card Portfolio are available at ODBD in their Hope Packs! Below is a picture of the Hope Packs that are being given with each purchase of the Hope Set. Be sure to visit the website or ask when purchasing for the details.
Supplies:
Stamps: Our Daily Bread Designs
Paper: Outside – Cancer Awareness – ODBD; Inside – American Crafts
Ink: Colorbox Chalk Ink – Rouge
Accessories: Childrens board book, white glue, silk medical tape, ribbon, Nestabilities, clear stamp set boxes – ODBD, pearls, contents of ODBD Hope Pack.
Wow, I know this was a long post, and it was my first project!! This week I expect to have more cards to show.