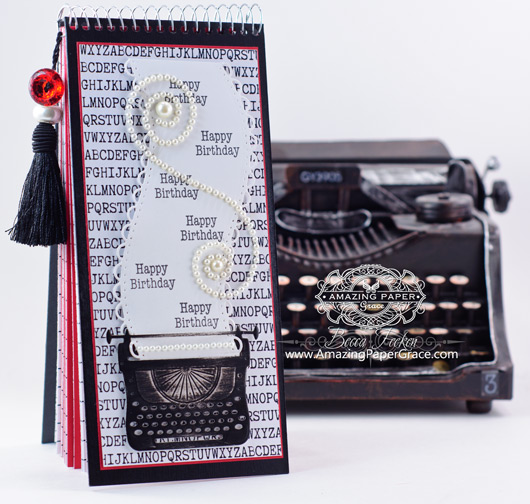 Good morning sweet friends, hide your eyes and look away if you don't want to be enabled today, ha-ha!!  You know I'm totally in love with the whole typewriter concept and I've done a couple of cards and such that were simply a joy to kick about on my craft table.  Today is another one of those projects: a.total.joy.  What I have today is a Birthday Date Keeper.  You might ask why?  Well in the grand scheme of iphones, computers and clouds, I can't tell you how many times I've lost my birthday calendar :-(  I've decided that cloud or no, I can't afford to lose the list again so I'm going to do it the old fashioned way of keeping it manually.  (Written word :-))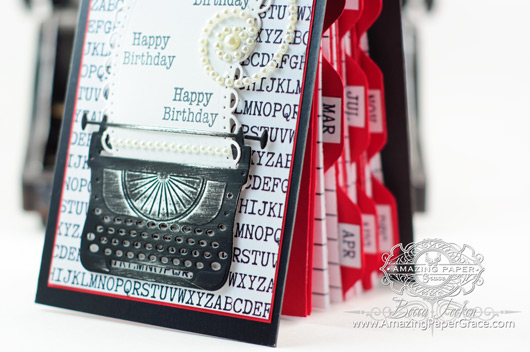 I started out with two pieces of matboard for a cover.  I have to admit, I went through my paper stash twice looking for paper; I knew exactly what I wanted.  Since I didn't find it, I made it myself by using a typewriter font and printing it out with my printer.  Yes, what I dreamed about exists somewhere, I just couldn't find it :-)  My printed typewriter print is matted with red to make it pop. The focal element is Spellbinders Typewriter.  I wanted a long curving piece of paper to look like it was coming out of the typewriter so I cut it with Spellbinders A2 Curved Borders One – cut one side then measure and cut second side.  I used the JustRite Typewriter Sentiments set (you can see all the releases for this month HERE) and stamped multiple times with Happy Birthday for my Birthday Date Keeper.  Really the front is quite simple…I added pearls and a tassel.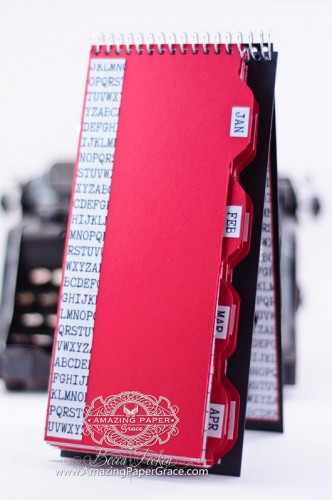 I used matboard so that the notebook would stand up on my desk and I can flip a month back and work on birthday card.  The tabs are made using the We R Memory Keepers Envelope Board.  There are 12 tabs and they were easily labeled by just typing out the names of the months in the same font and guing them in place.  I also glued some of the print paper on each divider for decoration.




I also made my own line paper but a couple of pieces of notebook paper work marvelously for the inside.  For the binding I used a small machine called Plastikoil PBS 11 punch.  I've had it forever and picked it up at an expo – it's just as easy to use a Cinch or any binding system you already have.  I used it to punch each of the matboard pieces, each divider and the lined paper.




 That's it, I'm all set – my birthdays are finally going to be organized!!
Now for the enabling part!  Please be sure to stop by the designers below and see what "type" of stuff they cooked up!!  Oh and also, JustRite is have a huge die sale.
JustRite Inspiration • Becca Feeken • Debbie Olson • Eva Dobilas • Kristi Schurr • Heidi Blankenship • Darsie Bruno • Angela Barkhouse • Sheri Holt • Michele Kovack • Kathy Jones • Margie Higuchi
Thank you, thank you, thank you!!  You all are fabulous!  See you soon!
Question Parking Lot:
Becky Green, in comment #33 asked what I used to cut my matboard.  I used my Cutterpillar Pro cutter.  I also have a heavy duty Carl Cutter (DC-250) that will cut matboard.  Without either of these, I would simply use a metal ruler and exacto knife :-)