Hi there, I'm excited today because I have a new technique to get immersed in.  I call it right angle punching and it opens up a whole new dimension to corner punches.  My card today is the product of that new technique; the medallion that my sentiment is sitting on is made this way.  It took me a couple of weeks to get my head wrapped around how to do it, reproduce it then teach it but I think I've got a handle on that now.  The link for the first of three videos showing this technique is at the bottom of my post.   In the meantime, on to my card for today!!
Suzanne with Quietfire Design penned this sentiment a couple of weeks ago and I've been dying to use it; it's called Life is a Pure Flame.  I created my medallion so that this sentiment could fit within.  It's backed on a serene Cosmo Cricket design paper with a teal mat.  I'd originally done the medallion in gray but it simply got lost in the background so I redid it with bright white.  On top of the medallion I layered a rectangle then a Spellbinders Petite Oval Small with the sentiment stamped in Prussian Blue Chalk Ink.  The last thing I did was postage sized stamp medallion made using right angle punch.  I cut a round hole in the center of the small medallion and threaded it on my bow loops for a paper collar on my bow.  So have a look at the video, I'm sure your mind will start run with this :-)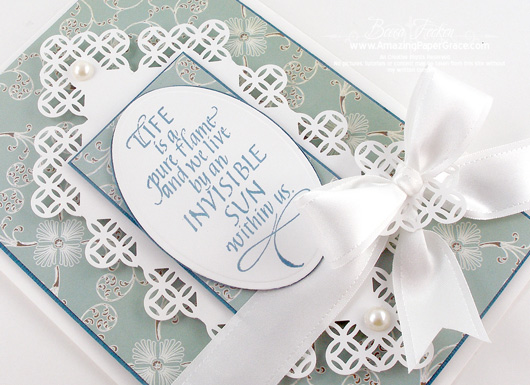 Here is the first in the series of videos.  My hope is that instead of presenting an overwhelming concept – I've broken it down so that you can master the first step before moving on to a more complex design.  Enjoy!