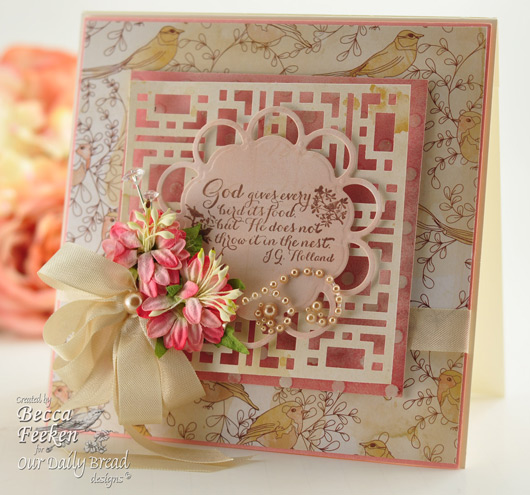 Happy Monday sweet friends!  Cool things going on today!!  I have a new tutorial to share you with (by reader demand) and a bonus tip!!  First of all, let me just say that sometimes I'm on autopilot – on my last card I mentioned using a Martha Stewart punch and it was actually an EKSuccess Large Edger Punch.  I knew that and have no idea why I wrote it that way!!  I've gone back to my original post and edited in the correct information and I have it correctly here too!!  Thanks for tipping me off, you are the best readers evah!!  My card today uses the same technique of punching 360 degrees around to create a border frame, corners filled, with a consistent margin all around.  It's a quick tutorial today, and I show you how to do this with any type of linear border punch!
Here's the HD video:

Hey, by the way, did you notice my new button?  It's on the right side of my blog – all you have do is grab the html and throw it into your side bar.  I also figured out that I had a bad link on my contact page that was trying to send you to the FAQ (frequently asked questions) but was sending you to an old version.  I've corrected it.  I hope you'll take a second to look – you may even find the answer to your question there!!  Thanks for stopping by today – I'll see you soon!!