How can it possibly be the beginning of April?!?  Well it is!!  I'm giddy about the feelings of spring, they are a blessing, a breeze of hope and a healer to my soul.  I'm tickled to jump in on a beautiful morning to share my new Die of the Month – it's called Elegant Swivel and Sashay Die Set.  It's an interactive card with an elegant twist.  The thing that I love most about this die set is that even if you are not into interactive, with all the other sweet and cozy little pieces you can make a regular card.
This month you'll see that I did a card that super feminine, one that is super elegant, and one that could be given to any one – guy, girl or youth.  Die of the Month is an opportunity for me to create a multi-purpose die that will create many items and works well with that you have in your stash.  I also love the program because it can be budgeted for every month or for the months you like to participate – you sweet readers asked for that.  Yes, I still have new collections coming, but the Die of the Month is sold for less than collection dies of a smaller size.  For new subscribers, if you are not familiar with the Die of the Month here's a post that will give you all the details  ——> HERE
Inspiration for this Month's Die
This month's die has 20 pieces including a swivel mechanism, four words, four flowers, an adorable scalloped panel, and some more elegant touches.  I normally make 5 x 7 cards but this set is sized to accommodate the A2 folks!!  It will make an A2 card and can be sized up to make 5 x 7 as you will see in my samples.  My goal was to create a set that would make a lovely pop up card that could be downplayed to make a normal card as well.  This one is a no brainer – for the basic swivel card, there is no measuring, just cut and glue.  I will say the card looks lovely when you add matted panels on the inside and out and that's what I've done with my samples.   Wanna see how it is made?
Assembling the Elegant Swivel and Sashay Card
Elegant Swivel and Sashay Samples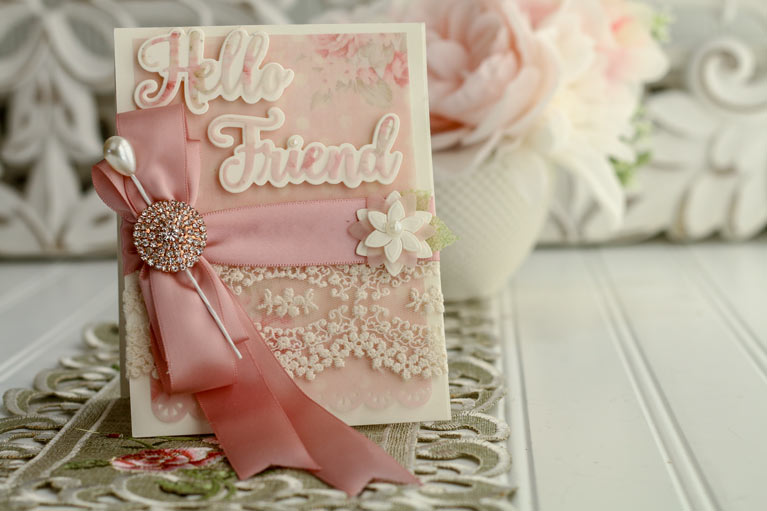 This card is all girl.  Lace, powdery vellum papers, vintage pink and gold – my favorite kind of card.  I have a friend who has asked me for this one.  She says that it speaks to the woman in her and that all of the elements are dreamy and cozy.  Personally, I love it when I can put feeling into a card and I hope this one makes you smile.  Card size is 4-1/4″ Wide x 5-1/2″ Tall
And the inside :-)  I created the little starburst edging just to add a little bit of flair.



The belly band lifts off this one to reveal a surprise!!  The sentiment is on the inside but could just as easily go where the belly band could hide it.  I wanted this card to be just like opening up a present :-)  Card size is 4-1/4″ Wide x 5-1/2″ Tall



And then there is the inside :-)



To me, for this card, the sentiment says it all!!  This will eventually go out to a friend that has helped me so much in the last month.  To her I just can't say thank you enough – that's why it's stamped four times, lol!!  This card uses the interactive element but turned sideways for a landscape card.  Card size is 4-3/4″ Wide x 6″ Tall.
And here is the inside.  I love the real estate that is available for sentiments in this format of card.  But, truth be known, all the delicate little parts an pieces here work spectacularly with everything in your stash for everyday cards.
That's my share for you with the April 2019 Die of the Month – thank you for letting me walk though my though process and what I wanted to create!  Pop over to the Spellbinders Blog to ——>THIS POST <——– to have a look at many more pictures of the Elegant Swivel and Sashay Die Set.
If you are already a member or have purchased any of the Die of the Month Dies, I hope you'll leave a review of the die on the Club Page —-> HERE.  Your constructive thoughts help others know if they want to give the die a try.  Likewise, if you aren't sure – be sure to go read the reviews – they will help you know if this one is for you.




Stamps:  Spellbinders StP-005 Clear Stamps 
Paper:  Neenah Classic Crest – Natural White – Cover – 80lb smooth,  Die Cuts with a View, Bazzill, Papertrey Ink
Ink:  Versafine Onyx Black and Clear Detail Embossing Powder
Accessories:  Amazing Paper Grace Dies by Spellbinders, Amazing Paper Grace April 2019 Die of the Month.

So last month I asked you to leave a comment telling me how many years you've been cardmaking.  I was blown away!!  I have a friend that says people last an average of 6 years with a hobby before moving on and I told her that I begged to differ :-)  I've been making cards since the mid 1990's and I see I'm in very good company here because many of you have been at it for that long as well.  I say it's a way of life.  If you have it in your heart to create with your hands I find that it's something that you do in all corners of your life.  In fact, I've been making with my hands since childhood.  One of my favorite hobbies is sewing and I've spent my whole likfe doing it – sometimes with little things, sometimes with big.  How about you – what other hobby has been a cornerstone of your life?