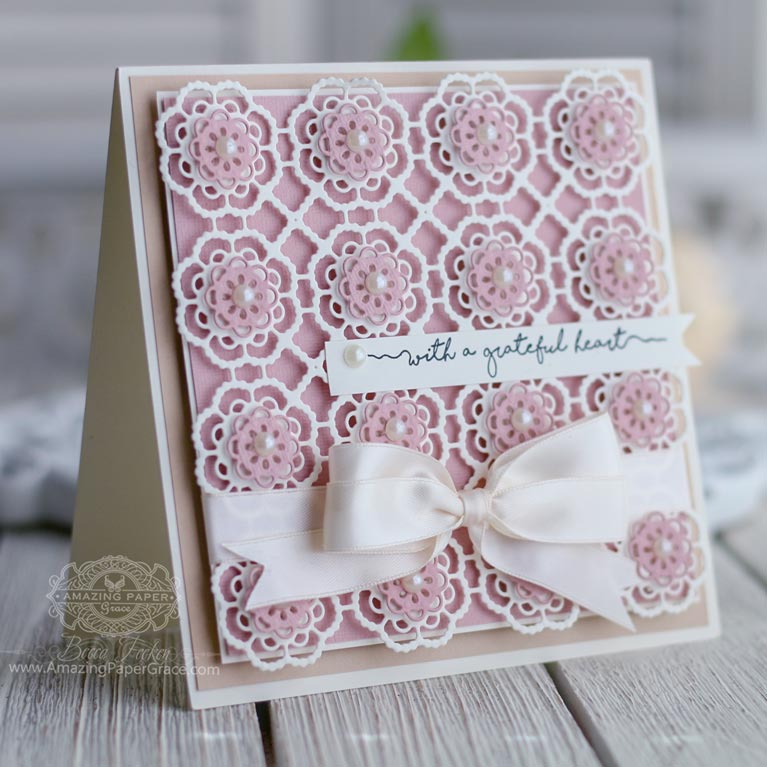 Another month has come and this month behind the scenes we've been marveling at all the ways you can use the September Die of the Month – Snip-It Flowers,.  In fact, there is an inspirational PDF that you can download HERE that shows you many ways to use the die.
At first glance, it looks like a background die; it is anything but a background die.  It was designed so that each of the flowers can be snipped out to create a panel, frame or element.  Whether you want the 4 x 4 frame, the 3 x 4 frame, a one layer border, a two-layer border or a corner, all you have to do is "snip".  Each one of us has taken the die and spun it into a creation – we hope to inspire!!
My Project Today:
I had an opportunity to create about 16 samples for the Die of the Month, so today I thought I would show you one of my favorites.  It's one of the simplest ones but it really speaks to my heart.  It's the full background using each of the flowers layered up with the additional pieces.  Because of the spacing, it's very easy to insert a sentiment that says it all.  I suppose there's a special place in my heart because it has all of my favorite things!  It has dimension, texture, a pretty sentiment and most of all, because it leaves room for a bow!!  This one is on the simple side, but every once in a while that's exactly what you need.
Supply List: