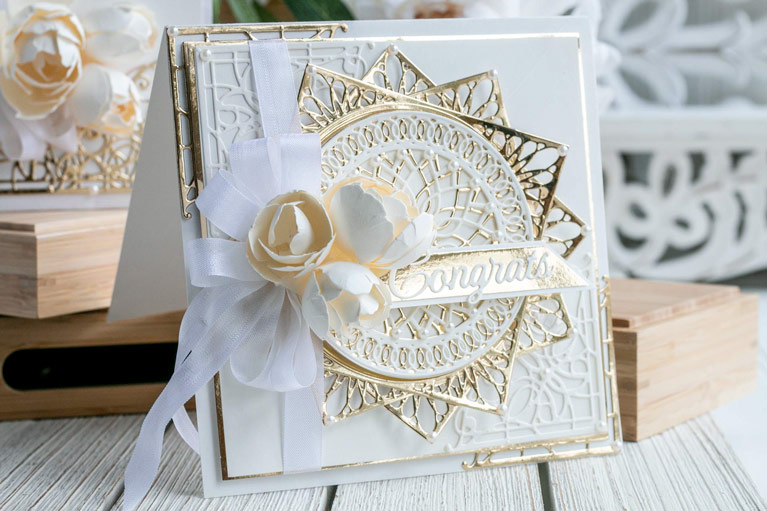 Hello Gracelets!!  This month's die of the month is elegant, and versatile and falls smack dab in the middle of my signature style.  Welcome this month to Elegant Infinity and the Elegant Infinity video linked below.  The rings were an integral part of the design and we adjusted and tweaked them until we got them just right!!  Speaking of signature style, I have a burning question for you about just that at the bottom of my post.
Inspiration for Elegant Infinity
I so love a die that can be used for many things and I think this month's die doesn't disappoint.  The main motif for this die is 4″ which means that even A4 peeps can use it.  In the larger scheme of things, it makes a beautiful center that fits well in the center of a 5.5″ or 6.0″ square card.  Here are some of the many ways the die can be cut:
Here is a very quick video that shows all the pieces to the die set and my "go to" way to put these elements together:
Pop Up 3D Vignette Bouquet Samples
We'll be bringing you more inspiration on ways to use the sweet pieces to this set, this month!!


I would love it if you would weigh in here to leave me a comment and let me know, what's your signature style?
A.  I'm mainly a classic card maker, but do some other styles.
B.  I'm mainly a cutesy card maker, but do some other styles.
C.  I'm mainly a clean and simple card maker, but do some other styles.
D.  I'm mainly an interactive card maker, but do some other styles.
E.  I'm a combo – rank them in the order you create most of.
If I answer this question, believe it or not, I'm an E (combo) here is how I create A, D, B, C.
Why would I ask this….?  Well, I'm getting ready to start designing for 2021 and I'm curious to know if you like classic over interactive?  Clean over cute?
Thanks so much for stopping by, see you soon!!