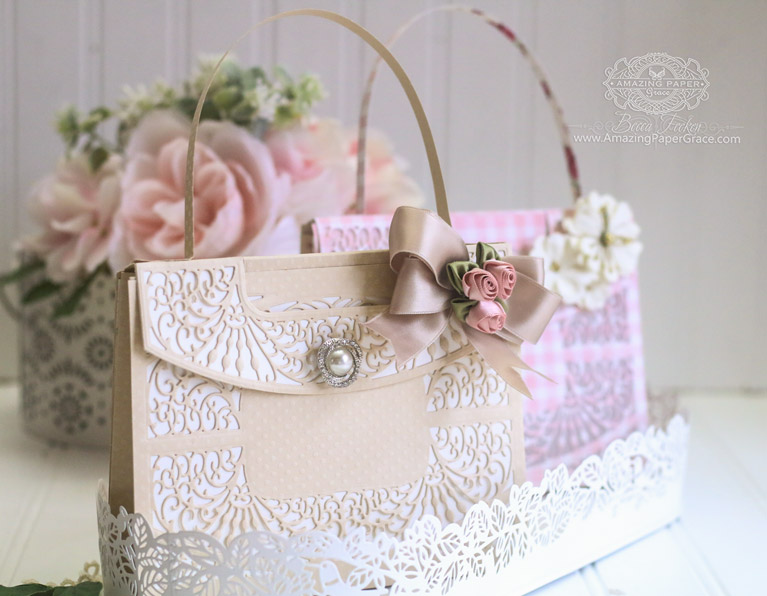 Are you ready to be inspired?  Every month we love bringing you inspiration for the Die of the Month and today is our Die of the Month Blog Hop!!   If you have the die, we'd love for you to be able to make multiple things that perhaps you haven't thought of yet.  Stroll through the list of links at the bottom and maybe, just maybe, your next project is at one of those links!
The Enchantment Tall Flip and Gatefold Card Die Set natively makes into a tall gatefold card or a tent card by way of the unique base.  It is much like the December Die of the Month in that respect, but we wanted to give you a tall version.  Chalked full of extra pieces that include rims and unique inlays, these intricate motifs can be used in any number of ways.  If you do nothing more than to create a frame, there are four corner pieces that will help you do that.   The patterns are so delicate and romantic and we've found them to be a charming change of pace.
If you are new to our blogs, the Die of the Month is an exclusive die I designed for Spellbinders – it is called the Enchantment Tall Flip and Gatefold Card Die Set.  This particular set has 9 dies and they can be used to make a gatefold card, a tent card, a background, a slip-in card frame with decorative corners, a basket, a purse . . . and the list goes on, while the individual dies in the set can be used for many things.  As always, there are sweet flowers included!  It's available until February 28th and then we make way for the March Die of the Month!
If you want to find out more about the Club – prices, how you sign up and what's included, please look ——–> HERE.
If you missed the introduction and want to know more about what inspired the Die of the Month Club, look ——->HERE.
My Project Today:
I knew from the time that I designed that die that it would be great detail on a purse!  Eek, I love how it turned out!  I took the full template and cut it at each end of a panel that was 7″ wide by 12″ long.    I scored in between the two motifs to create a gusset and separately added the flap.  I also added gussets on the side.   The sample above was lined using vellum so it has a sweet ethereal quality and the sample below was lined using a piece of cream cardstock.  The finished purses are 5 x 7 x 1.5″ deep.


Stamps: None
Paper: My Minds Eye, Bazzill Swiss Dots
Ink:  None
Accessories: Amazing Paper Grace Dies by Spellbinders, Enchantment Tall Flip and Gatefold Card Die Set 


As always, each member of the Creative Team spins their interpretation of a die.  To see their makes pop down the list of Creative Team Member to see more!
Visit Joanna   – joannakrog.blogspot.com
Visit Teresa   –  victorianpaperqueen.blogspot.com
Visit Ewelina –  elinaart.blogspot.co.uk
Visit Melissa  – keepsakesbymelissa.blogspot.com 
Visit Judy       – judyhayesdesign.blogspot.com
Visit Becca     – amazingpapergrace.com/blog
We can't wait to see what you make with these exclusive dies – be sure to post your creation on the Amazing Paper Grace Die of the Month page ——-> HERE or on Instagram using the hashtag #AmazingPaperGraceClubKit