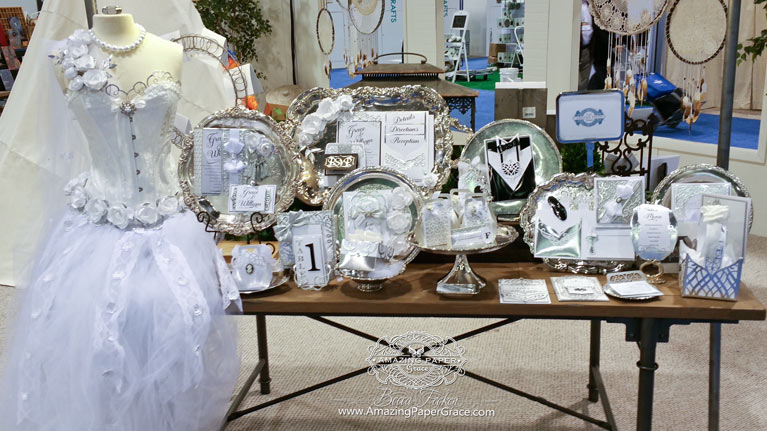 Good morning friends!  At long last I'm getting to the heart of my travels to CHA 2016.   I thought I would start out today with a video and  information about my new line.  Throughout the week we'll get more up close, then I'll wrap it up neat and tidy so that hopefully I've thought of the questions before you've asked.  Bear with me, this is a long post!  I field a lot of questions through the blog so I want to proactively answer and give you a point of reference for my collection.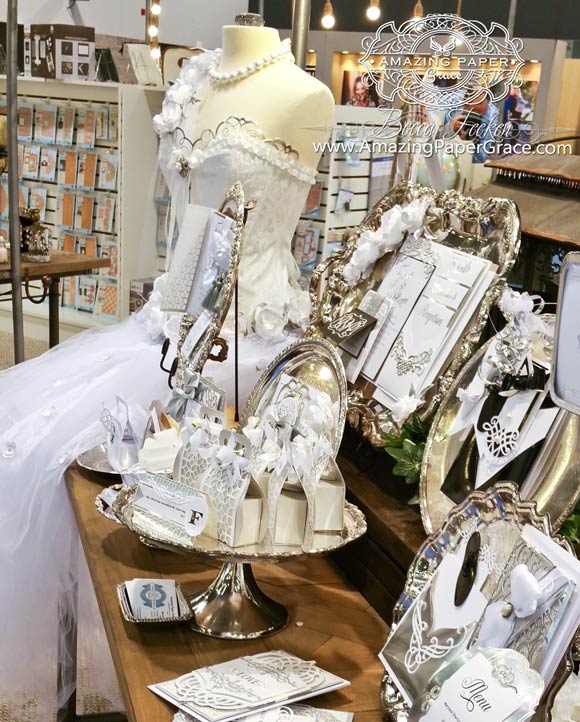 Today I'm showing a video taken by my sweet friend Yana Smakula, designer extraordinaire for Spellbinders.  She caught me unexpectedly on my first morning in the booth and said, guess what – we're going to do a video.
Just the previous evening I posted my word of the year here on the blog – courage.  I mused to myself how we're not wasting any time putting that word to the test!  Lol, I think I talk loud to hide my nervousness; having my picture taken is outside of my comfort zone but this year I'm going to move it inside my comfort zone.  Enjoy!
Pertinent information about my line follows the video and I'll edit to update this post if there are changes or additions.  Book mark it!

INSPIRATION
As you know, my style is classic, romantic and elegant.  I like to think that today I labor on a card, tomorrow it is given and tucked away for sweet memory and 50 years from now and adventurous descendant is pulling it out of box and running their hands over my bows, the pearls, the stitching and reading the handwriting.  Will they know who I am? Will they know what I stood for?  Will they get a sense of the spirit of giving?  I can't be sure, but I hope so.  The present is important enough that I'm content to leave breadcrumbs, and that's what we do every day as cardmakers.  A DIY card, one that is handmade brings joy to the giver and the receiver – what better way to punctuate a special occasion.
I was invited to create a Wedding Collection in line with my style, here's an overview of what I came up with.
GOAL
My new line is over the top elegant to create a one of a kind custom DIY look for any wedding.
After the fact, each die will blend seamlessly with your everyday stash of dies for remarkable cards and embellishments.
The mix and match design will enable you to use each element on cards, tags, boxes, planners and 3D creations.
The classic cursive style while trendy, is also classic and will stand the test of time.
I design with the philosophy that you should be able to get 5 uses out of each die template (and we'll have fun over the next several months coming up with the five ways)
WHO
My name is Becca Feeken and I'm the owner and designer at Amazing Paper Grace.  I'm a Spellbinders Licensed Designer and tickled to release a new line of timeless, classic die templates.
WHAT
I've designed a line of dies that the everyday crafter simplify or glam up to create contemporary DIY wedding invitations and embellishments.  The elements are tailored so that an element used on a card can just as easily be wrapped around a box, used for a place card or gift tag.
WHEN
My line of dies is scheduled to ship in March 2016.
WHERE
Right now, you'll be able to reach out to your favorite retailers to pre-order them to ensure they are on their way as soon as available.  Retailers pick a selection of dies, if you don't find what you have your heart set on, request them!!  I've been told the dies will be available on the Spellbinders Website and Online Store in March of 2016.  I'll share updates as soon as I have them.
WHY
I'm grateful for the opportunity to show and support the dies I've designed.  As  a member of my community I'll endeavor to show you how to make the most of each die with "out of the box ideas" on how to use them to get the most of your stash investment.  In doing so, every purchase supports this site and enables me keep it alive as well as bring you more original content, more original ideas and sortable galleries of examples that will help you put your specific dies to use.


Thanks so much for stopping by!  More sharing tomorrow!