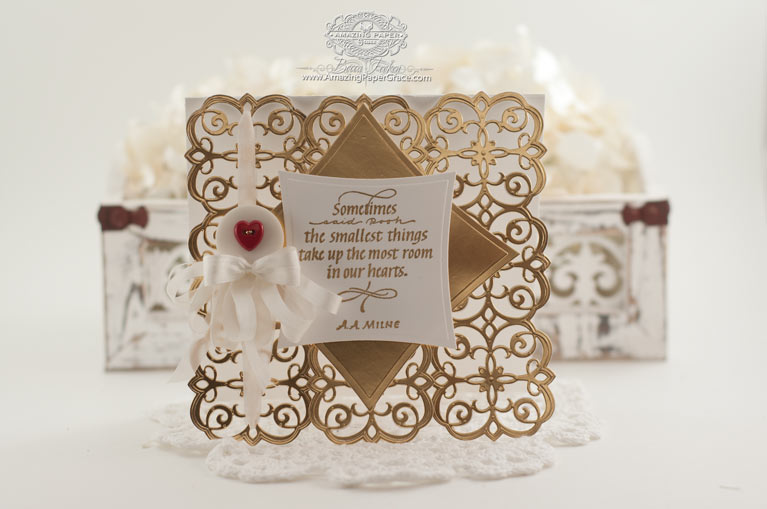 Sweet friends, Happy Monday to you!!  I hope you all are faring well.  I'm popping in to share a filigree card that is my kind of Valentines card.  Lots of folks give one big card for their number one sweetie and I say that for Valentines Day you can have lots of sweeties – I feel that way about my kids, close friends and people who sweetly offer kindness.  I love this sentiment from Quietfire Design – Sometimes Said Pooh and I thought it perfect for my Valentines Card because even the very smallest things take the most room in our hearts.  Over the weekend as I collected colors and such for this card, I can't tell you how much joy I felt in making it.  I used a couple more of my favorites – Spellbinders Mary Border Strip  and Spellbinders Curved Square.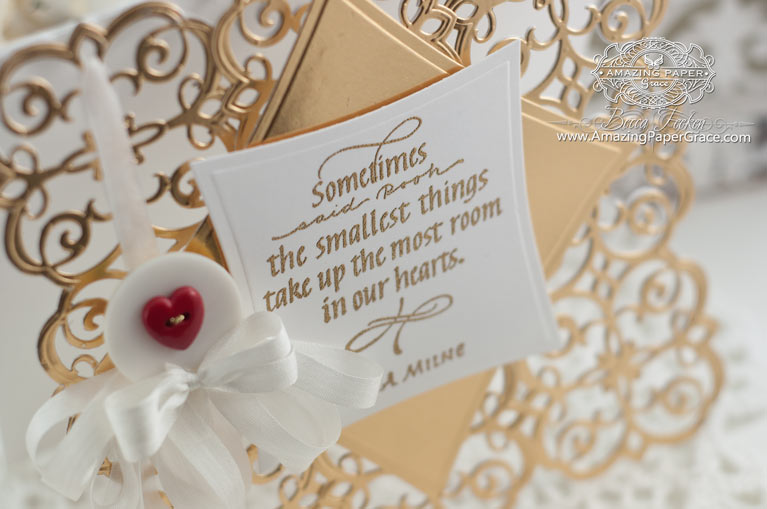 I normally say that cards are easy peasy but I'll be honest to say that this one is achievable with patience.  It's made using the same technique I've previously done in a tutorial here on the blog called How To Make an Encased Border, only this time it's on a larger scale.  The base of the front is made by cutting the inlaid portion of Spellbinders Mary Border Strip three times into a front panel that is 5-1/2″ x 7-1/2″ – scored 1 inch down from the top.  (I pinpointed how to place the three borders after doing the center border then pencil marks to give me an idea how to line up the two outside borders).  To the flap/hinge, you add a panel big enough to be the back side of your card.  You can see what the front of the card base looks like below.



The beauty of this card is that three whole cut borders are simply glued on top of the base I described above.  These 3 pristine cut borders cover up the base as well as any markings I've made.  How are they glued?  Well, at CHA I zipped over to the Scrapbook Adhesives booth and begged them to let me try their sheets of adhesive.  I have to tell you this is a win!! This card needed full coverage and the sheets of adhesive at Scrapbook Adhesives performed beautifully.  I simply added the adhesive sheet (here are the 4 x 6 Adhesive Sheets and here are the 6 x 12 Adhesive Sheets) to the backside of my gold poster board prior to cutting and once cut, I pulled the liner off and voila, I had a big die cut sticker.



Now, I was easily able to line up matching all the corresponding holes on my front card base and it gives the illusion that I cut the background in one large piece, out of gold.  I finished up the card by adding two panels cut with Spellbinders Curved Square.  Finished Card Size:  6″x 6″
Edited to add:  Oops, forgot to add that after these behind the scenes pictures were taken, I decided I did not want any white to visible on the front panel – there are a couple of places in between dies that I went back and trimmed the white out between inlay 1 and 2 then between inlay 2 and 3.



Rubber Stamps: Quietfire Design – Sometimes Said Pooh
Craft Paper: Neenah Classic Crest Solar White – 110lb smooth, Gold Poster Board Hobby Lobby
Ink: Versamark and Ranger Gold Detail Embossing Powder
Accessories: Spellbinders Mary Border Strip, Spellbinders Curved Square, Adhesive Sheets, May Arts Silk Ribbon, Buttons from my stash



Thanks so much for stopping by!  Tomorrow I'll share the project I taught at CHA using dies from my new collection available in March 2016.  Hope to see you!!