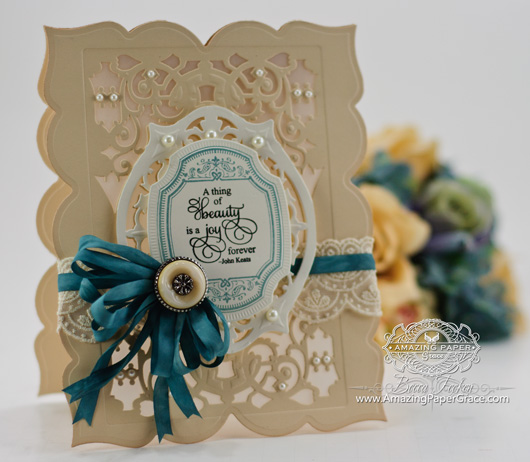 Hi there sweet blog friends, today is full of a couple of 'news' :-)  1.  A new stamp set from JustRite Papercraft called Black Eyed Susan Vintage Labels.  2.  A new die template from JustRite Papercrafts called Vintage Labels Five and 3.  A new die, Spellbinders Tapestry.   No worries, I reached for a trusty standby and created the card base from Spellbinders Grand Labels Twenty Three.  Oh  but wait, there are a couple more 'news' I forgot about!!!  A new website at JustRite Papercraft and a new look at the blog at JustRite Inspirations – if you click any of my links here, you'll get to take a peek.
For my card, the main focal element is the cutout using Spellbinders Tapestry cut directly into the card base.  I backed the cutout with a piece of vellum so that you couldn't see right through like with most filigree cards.  I cut a second panel using the Tapestry die template and trimmed out the oval motif that I stacked directly on top of my main panel. I finished off the stack with JustRite Vintage Labels Four.
Here's your Step By Step Recap of die cuts and layers, from the bottom up:  Start out with a Card Base cut using Grand Labels Twenty Three (5-1/2″ x 6-7/8″) , card base front cut using Tapestry die cut, foam tape, die cut layer using oval motif trimmed out of the center of Tapestry die cut, foam tape, Vintage Labels Four.  Add lace, ribbon ad pearls.
CRAFT SUPPLIES I USED
Rubber Stamps: JustRite Papercraft – Black Eyed Susan Vintage Labels
Craft Paper: Neenah Eames Natural White – 120lb canvas, Neenah Classic Crest Natural White – 80lb, Pergamano (translucent parchment)
Ink: Amuse Studio – Eucalyptus, Versafine Onyx Black
Accessories: JustRite Vintage Labels Five, Spellbinders Tapestry, Spellbinders Grand Labels Twenty Three, Recollection Pearls, Button, May Arts Silk Ribbon, Becca's Peg Bow Maker, Grand Calibur Die Cut Machine
Many of the other ladies on the JustRite Design Team have samples to show today as well:
JustRite Inspiration • Debbie Olson • Michele Kovack • Becca Feeken • Marisa Job • Darsie Bruno • Kristi Schurr • Kathy Jones • Kazan Clark • Margie Higuchi 
I'm honored that you spent some time with me today….thanks so much for your kind words!