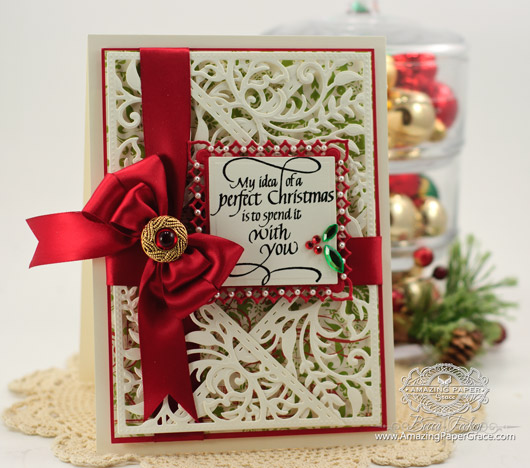 Hi there blog friends.  As much as we can't wait for Christmas to come, can we please put on the brakes for just a minute?  I got up to Thanksgiving and the wheels came off…I've been travelling much of the last three weeks and am thankful to slow down and savor the sounds and feelings of Christmas.  That's the blessing behind the little crafts we like to do – while we're in the process of making and creating, it's so nice to think about the recipient (and hum along to Christmas carols).  I took a moment to sit down and create another Christmas card with a sweet new set from Quietfire Design called My Idea of a Perfect Christmas.  The background is created using Spellbinders Botanical Swirls and Accents.  It's topped off with Spellbinders Captivating Squares and Spellbinders Classic Squares LG.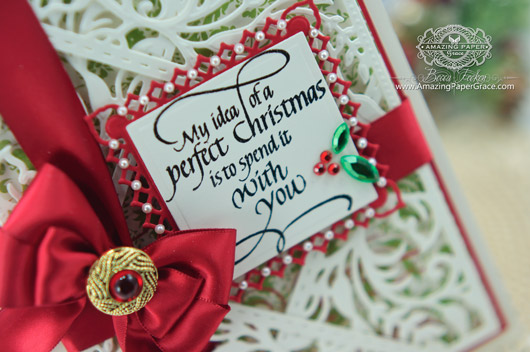 Here's your Step By Step Recap of die cuts and layers, from the bottom up:   Start out with a Card Base  7-1/2″ tall by 5-1/2″ wide (or see how to make that size with the Hinge Technique HERE), foam tape, red matting layer cut to 7″ x 5″, design paper layer cut to 6-7/8″ x 4-7/8″, foam tape, die cut layer using Botanical Swirls on all four corners of card, foam tape, die cut layer using Captivating Squares, foam tape, die cut layer using Classic Squares LG.   As always, cut everything first, then stack.  Position ribbon, and bow on correct layer, admire, then glue!
Cheers to you and I hope the holidays are filling you with the spirit of the season.  Thanks so much for stopping by!  I'm working on lots of new stuff in the background – stay tuned.