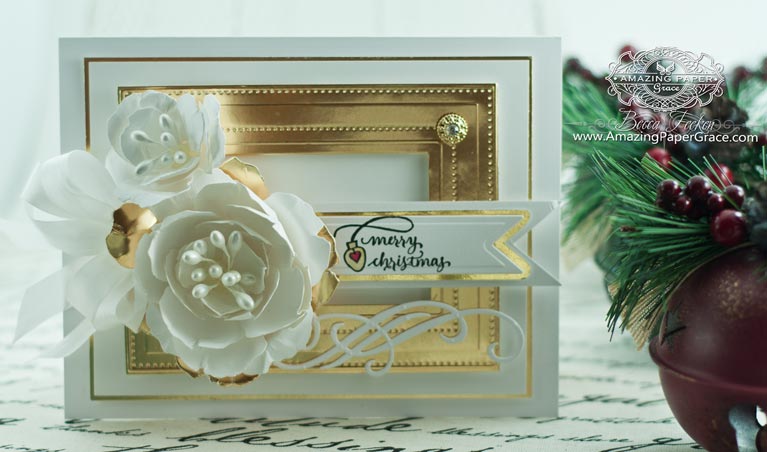 Happy Holidays dear friends!  Yes, it is getting closer.  Popping up to share some last minute Christmas inspiration.  I'm working on some other projects but this flower figures prominently and luckily it's something that I can share :-)  I've been using this gorgeous flower using a new Spellbinders Contour Die called Layered Blooms (yep, it's a steel rule die) to decorate packages and oh so many more things.  That flower – easy and gorgeous!  That sentiment – of course it is Quietfire Design!  I used a new Christmas set called  Tiny Christmas Wishes for the perfect finishing touch!
SPEAKING OF WHAT I'VE BEEN UP TO  . . .
I can't hint, but Spellbinders can hint.  Today, Spellbinders is sharing my story, the inspiration for my designs.  Read the article carefully and you'll be able to figure out what's coming (wink, wink).  The whole story is at this link —–>  Designer Spotlight – Becca Feeken.  I'm so tickled to have the opportunity to be a licensed designer.  If you have a moment, chime in over on the Spellbinders blog.   Thank you for letting me share my inspiration!!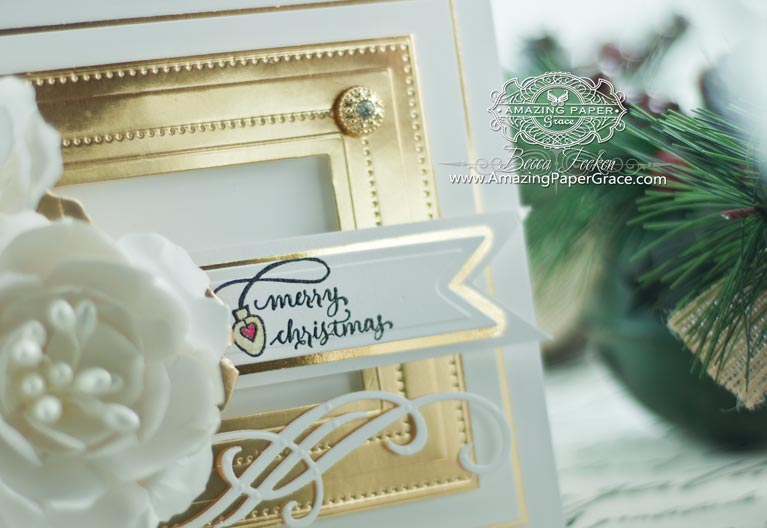 My card above is embellished with some of my favorite dies – Spellbinders Cinch and Go Flowers (love that swirl!), Spellbinders Pierced Rectangles (a must have) and Spellbinders Petite Pennants.   Okay, back to my work desk!  I'm going to have a glass of mojo and continue with some pressing deadlines.  I couldn't resist showing just a small piece of the gorgeousness that I get to work with!   Thank you sweeties!!


Rubber Stamps: Quietfire Design – Tiny Christmas Wishes
Craft Paper: Neenah Classic Crest Smooth – Solar White – 80 lb smooth,  Fine Touch Gold Metallic Poster Board
Ink: Versafine Onyx Black
Accessories:   Spellbinders Contour Die – Layered Blooms, Spellbinders Cinch and Go Flowers, Spellbinders Pierced Rectangles , Spellbinders Petite PennantsSilk Ribbon, Button 

Hope your holiday is shaping up to be fantastic!