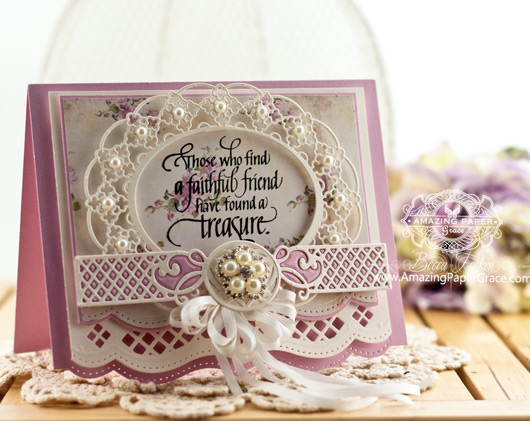 Good morning friends!  Thanks so much for stopping by the blog today!  I had a couple of new dies that I've been "die-ing" to play with so I created a friendship card to share.  I love the Quietfire Design sentiment – Those who find a faithful friend have found a treasure from the Always Be My Friend Collection.  I stamped it directly onto my design paper – I love to do that – I wanted some of the roses from the design paper to peek out from underneath the lacy curves of Spellbinders Oval Regalia – a beautiful die cut that just begs for pearls in my humble opinion. :-)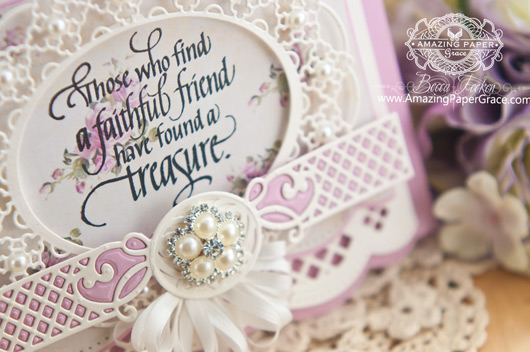 My card base measures 6-1/2 inches wide by 5-1/4 inches tall.  The bottom of each layer is cut using Spellbinders A2 Bracket Borders One.  I used Bracket Border on my card base, my cream layer and my design paper layer that is matted with the same shape in lavender paper.  Then over top of everything I used Spellbinders Romantic Agenda as a belly band – it's backed with the same lavender paper.  I didn't want to cover that beauty up so I tucked a small multiloop bow underneath it.
Stay warm friends!  It's even below freezing where I live so I know it's cold up north!  Isn't it a perfect day for drinking hot chocolate, throwing on your thick wool socks, snagging your favorite blankie and crafting the day away?  Make it so!   Thanks for stopping by, and I'll see you soon.
Question Parking Lot: