Sweet blog friends, I have an admission to make.  I do my best when I don't over think about what I'm doing and it just happens.  That sums up today – I just finished making a series of samples that had me a little bit stumped because I had already used the dies and layouts extensively and had to come up with some fresh ideas (more about that later this month).  So as I sat down for this card, I just let things flow.  I was mildly surprised that what came out was the kind of style that I'm most at home with and it feels very authentic to me.  Are you like this?  What happens when you just let go and sit down to create without any expectations?   Today is one of those days.  My designs are "die cut" centric – in other words most of the time I design around dies and find room for the other items later. That's probably the exact opposite of many of you, but it's just the way my mind works.   Today it comes in handy because Justrite Papercrafts is rolling out new images and today we're showing Grand Birthday Sentiments (it fit so nicely in the space I left for sentiments :-)
I pulled from some of my old favorites on this card by reaching for Spellbinders Antique Frames and Accents, Spellbinders Labels Sixteen and mixed in some new with Spellbinders Gold Squares One and Spellbinders Labels Thirty Two!  I'm falling back in love with texture and find myself reaching for embossing folders with much more  frequency – here I'm using Spellbinders Garden Lattice.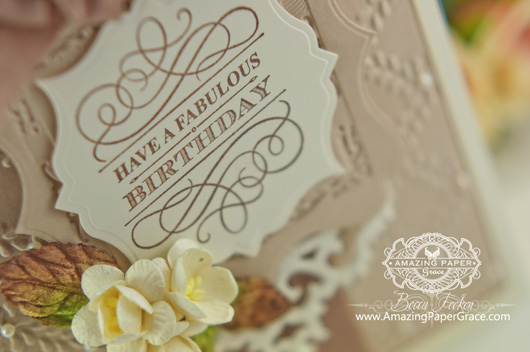 Here's your Step-By-Step Recap, from the bottom up, just in case you'd like to make one too.  Start out with a cream card base cut to  5-1/2″ x 7-1/2″, foam tape, brown matting layer cut to 5″ x 6-7/8″, panel embossed with Garden Lattice embossing folder and cut to 4-7/8″ x 6-3/4″, foam tape, die cut layer using two Antique Frames glued with top at opposite ends, foam tape, die cut layer with Labels Sixteen embossed with Gold Labels One, foam tape, die cut layer with Labels Thirty Two.  Add pearls, bow and flowers on appropriate layers.
SUPPLIES I USED
Stamps: Justrite Papercrafts – Grand Birthday Sentiments
Paper: Neenah Classic Crest Natural White, EK Success Putty
Ink: Amuse Studio –  French Roast
Accessories:  Spellbinders Antique Frames and Accents, Spellbinders Labels Sixteen, Spellbinders Gold Squares One, Spellbinders Labels Thirty Two, Spellbinders Garden Lattice, Recollections Pearls, May Arts Silk Ribbon, Mulberry Flowers, Becca's Bow Maker, Grand Calibur Die Cutting Machine
There's always lots to see with the JustRite Design Team, stop and and take a peek!
JustRite Inspiration • Becca Feeken  • Michele Kovack • Eva Dobilas • Heidi Blankenship • Kristi Schurr • Darsie Bruno • Angela Barkhouse  • Sheri Holt • Kathy Jones • Marisa Job  
Thanks for stopping by!  I hope you'll sit down to make something for you and just let it flow!