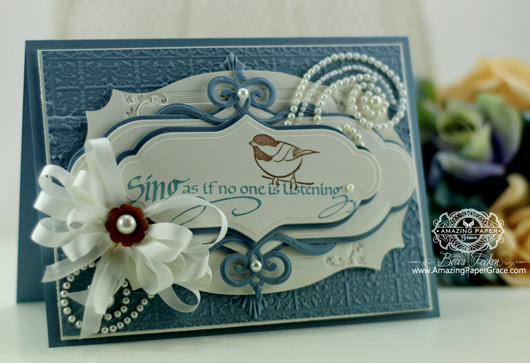 I've been deep in conversation with my crafty friends about card making ideas.  We've talked about simple to make cards and cards that look complicated, but aren't.  I'm a firm believer that the dies can do the heavy lifting – so put them to work!!  My card today is one that goes together easily, and looks like you fussed, but you didn't.  So often I think the optical illusion of layers makes things look much more complicated than they really are.  If you're a 'visual' person like I am, please know that things make much more sense when you're working the real thing rather than looking at instructions; 'hands-on' is king in card making.  Let me encourage you to cut the layers with the sizes I give, stack them up (without glue first) and I assure you, it will make sense. That's exactly how I designed this card, I cut everything, stack everything to make sure it jives then I go back and glue everything and add foam tape where I want layers.  Are you game???
I picked an adorable rubber stamp set from Quietfire Design that makes this sentiment from The Woods Would Be Very Silent  resonate, and the sweet little bird is the icing on top!  I reached for Spellbinders Labels Thirty Three, Spellbinders Twisted Metal Tags and Accents, Spellbinders Majestic Labels Twenty Five, Spellbinders Gold Rectangles One and Spellbinders Persian Splendor Embossing Folder to pull this card together.   Since I wanted thin matting layers I decided to create those matting layers with die cuts the same size as as the die they mat, here's how:  My blue matting layers are simply 2 duplicates of the cream layer on top of them.  All I do is offset the blue matting layer behind the cream die cut making sure the first blue die cut sticks out on top and the second blue die cut stick out on the bottom.  Optical illusion = a thin matting layer – try it yourself!!
Here's your Step By Step recap of die cuts and layers, from the bottom up!  Start out with a blue card base cut to  5″ x 6-3/4″, foam tape, cream matting layer cut to 4-3/4″ x 6-1/2″, panel embossed with Persian Splendor embossing folder and cut to 4-5/8″ x 6-3/8″, foam tape, combination of 2 blue and 1 cream die cut layers using Labels Thirty Three (offset as described above) then lay on top of Twisted Metal Tags and Accents and pull up on decorative point so that the points sit on top of enclosed dies, foam tape, combination of 2 blue and 1 cream die cut layers using Labels Thirty Three (offset as described above).  Attach bow, button and pearls.
 I so appreciate all of you who are a part of the Amazing Paper Grace community – thank you for letting me share some of the products I love!  Also, thank you for taking the time to stop by, I know that many of you stop by every post and I really does my heart good and it inspires me to keep producing card making ideas!!  Thank you so, so much!!