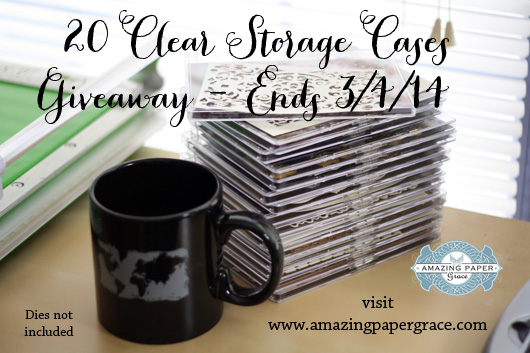 Hi there friends, as promised, I'm back with a giveaway. As you know I keep my dies and some of my clears stamps in clear cases, I swear by them.  For dies, I simply line one or both sides of the case with magnet, print off  a label and I'm good to go.  I store my larger die sets in DVD sized cases and smaller die sets in CD sized cases. Here are all the links to what I use:
Clear DVD Cases
Magnet Insert Sheets
Spine Label Sheets
The fine folks at TapeOnLine.com have generously offered a package for giveaway!  Here's what you can win:

What You Can Win:
Twenty Clear DVD Cases
Twenty Cut Magnet Insert Sheets
A Label Sheet for Labeling the Spines
Free Shipping to destinations in the US
How to Win:
Comments open now and will close at midnight CST on Tuesday, March 4th with the winner being picked by random.org and announced on Wednesday, March 5th.  You can enter once per day, just be sure to come back on March 5th to find out if you the winner.  The winner has 48 hours after announcement to reach out to me through my contact page to leave their address and claim their winnings.
This is a product I purchase personally and quite honestly am a happy Tapeonline customer.  In the spirit of full disclosure, these prize winnings are being sponsored by Tapeonline.com and will be sent out directly from Tapeonline.com.