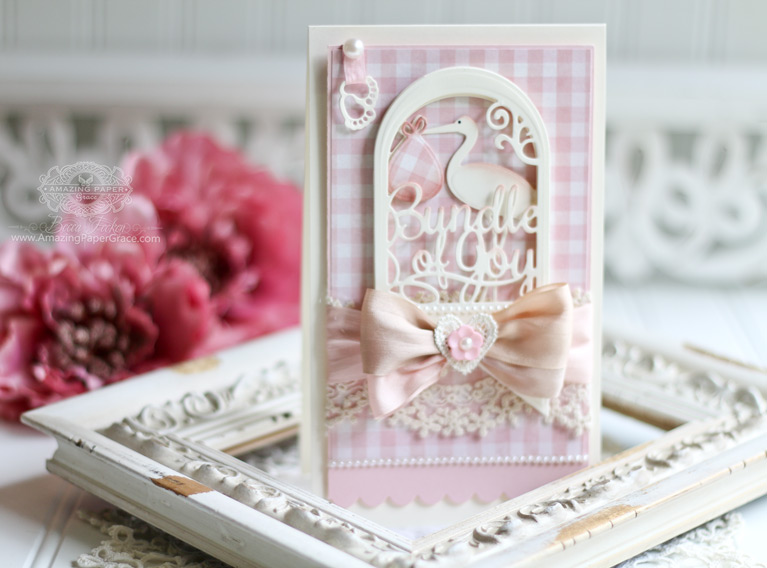 Hi there friends!  I've been travelling and it's so good to be home.  Just in time to load you up with more inspiration.  The Creative Team and I are using Layered Dies today to create Shaker Cards using the 3D Vignettes Collection.  I made a card and matching gift tag using the Layered Bundle of Joy set.  The tag of the set is a shaker tag :-)  Coincidentally, – – wink, wink —  that arched motif from Layered Bundle of  Joy fits nicely inside Arched Swallowtail Tags. I cut both motifs in an inlaid manner and it made a pretty snazzy base for my card – it is also the base for my tag.  I used the rattle from the Layered Bundle of Joy for the hanger on the tag.  The scalloped bottom was cut using one of the edge treatments from Tiered Rosettes.
Here are a couple of videos that explain 3D Vignettes:
A Sneak Peak at 3D Vignettes ———>Video Here.
Assembling a Grand Card Base ——-> Video Here.
3D Vignette Shaker Cards
Behind the scenes, we all thought how marvelous it would be to create Shaker Cards with the dies from 3D Vignettes.  Everyone came up with their interpretation and they are gorgeous!!  It's easy to let your imagination run wild – the tour starts here!



Jo used:
Grand Cabinet Card
Layered Happily Ever After
Oh Happy Day
Cinch and Go Flowers III
Teresa used:
Layered Happy Birthday
Tiara Rondelle 
Cinch and Go Flowers III


Melissa used:
Ornamental Arch
Cinch and Go Flowers III









Joanna used:
Layered Happy Birthday
Hemstitch Rectangles
Isadora Trinkets







Judy  used:
Filigree Numbers
Grand Dome 3D Card
Oh Happy Day
Scalloped Circles LG


Shakers cards are quite easy even though they look intimidating.  Please click through to individual designers so that you can see how they constructed their cards.  These were quite fun and a bonus way to use the layered dies that are a part of the 3D Vignettes Collection.   We hope you'll give them a try!