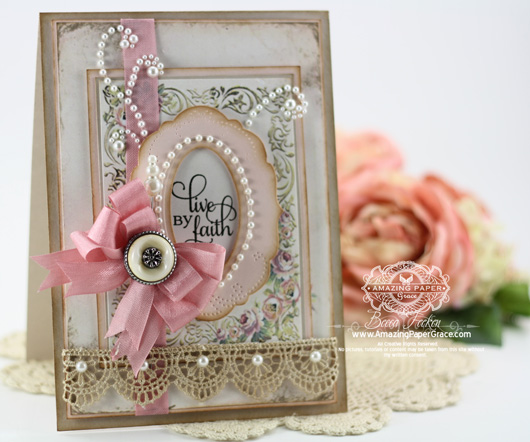 I'll be straight with you, I'm going through a little episode of Crafters A.D.D. – my daughter who was diagnosed with ADHD as a child, wholeheartedly agrees with me.   I  have several projects started but haven't brought any of them to a close – I keep jumping from one to another – sorry.  Just a little distracted, but it will work it's way out soon!!    In the meantime, instead of being stuck, I moved on  to do something a little bit more manageable – it's simple but definitely my speed for right now.  Last month I received some adorable classic, petite dies in the mail, squeal!!  It all came together on my desk and I think it was more therapeutic for me to stamp it than it will be to show it or give it away.  I like it when things work that way :-)
I'm using a Victorian Oval Die from Flourishes along with a sentiment from their Flower and Frames stamp set.
To recap my card from the bottom up stack these layers – card base 5-1/8″ x 7-1/8″, foam tape (optional), peach matting layer 4-3/4″ x 6-3/4″, design paper 4-5/8″ x 6-5/8″, foam tape (optional), peach matting layer 3-3/4″ x 5″, brown matting layer 3-1/2″ x 4-3/4″, design paper 3-3/8″ x 4-5/8″, foam tape (optional), die cut layer.  Attach ribbons and stamp sentiment at appropriate layer.
My weekend has been full of cheerful people placed in my path, just when I needed it. Thank you for tiny miracles :-)