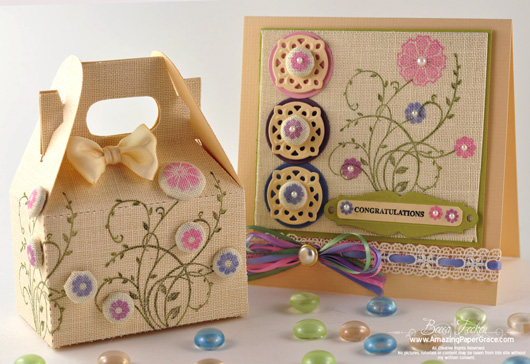 Hey chicklets!  I'm much better today, and I have a project to share that was soooooo much fun to make, I'll just have to explain how I got there.  First of all this is a new release by JustRite Stampers called Family Garden — adorable, hunh!?!   The first time I saw the set, I knew exactly what I wanted to do with it.  It's super cute because they included flowers in the set, but since they are not a part of the stamp, you can substitute anything you like, buttons, pearls, rings, a round of crochet – you get the picture.
I've tried  before to stamp on slick buttons with Stazon ink but was never happy with the results.   So recently when I saw someone  stamp on a fabric button, this was the a-ha I needed.  So now what fabric to use?  For a while I did cross stitching and somewhere along the line I hit a super clearance sale on cross stitch linen.  I have tons of it and thought if I was lucky, it would take ink.  Turns out that it takes ink very well – I used Stazon and Brilliance.  Using Scor-Tape sheets, I applied the linen to a piece of cardstock and stamped on it and then cut it for my project.   For the Gable Box I used a steel rule die cut and for my card, I simply cut my panel using my Tonic cutter.


For all the buttons I simply used an inexpensive covered button kit from the fabric store.  In this kit, all the top domes for the buttons had teeth which made it very easy to keep the fabric in place.  I did all of these (21 in total) by hand, each one taking less than a minute.  I applied them to the box and card with my glue gun.
For the card I used small, simple elements.  Spellbinders Standard Circle LG and Spellbinders Fleur de Lis Accents make the side embellishment.  My title, from JustRite Stampers You Are the Best Set is centered on top of Spellbinders Grommet Tags.  I've fallen in love with this linen, he-he . . . I just know you will see it again.
Theres more JustRite goodness to see :-)  You can check in with these DT Members to see:
JustRite Inspiration Blog • Kellie Fortin • Stephanie Kraft • Heidi Blankenship • Sankari Wegman • Becca Feeken • Mona Pendleton • Angela Barkhouse
I'll see you tomorrow!!  Be blessed friends!