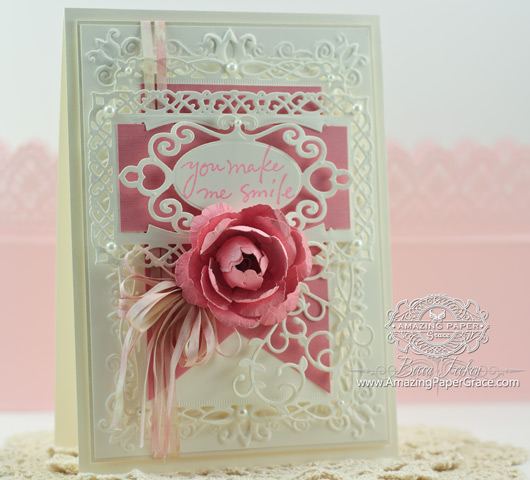 Hi there friends, I'm back.  Lol, I know you didn't know I was even away; I went to the mountains for some family time.  Time with my sweet girl and Bailey was medicine for my soul.  Oh, and this Florida girl was snowed in for a couple of days.  Even though everyone else hated it, I was just like a little girl on Christmas morning.  It was beautiful – the scenery literally took my breath away!!  I don't know why but whenever I'm standing outside in new snow, the crisp stillness of natures glory makes it seem like the whole world is holding its breath.   The icy blues and grays are a favorite palette, sigh!
Today I'm sharing a card that I almost finished before I left, it was waiting for some final touches.  Actually I threw away my flower because it was my "playing around" version.  When I got back I pulled it out of the garbage can and decided to run with it.   My card is 5-1/2″ x 7-1/2″ built on a hinged base.  On top of that I layered a pretty embossed folder called Spellbinders European Tapestry.  My next layer is Spellbinders Romantic Rectangles Two with the second largest die turned 90 degrees on the next layer.  Next comes Spellbinders Fancy Tags Two with a sentiment from Wordsworth Stamps.  Lastly, my rose from Spellbinders Create A Rose on a bed of flourishes from Spellbinders Foliage Flourish.
So sorry for two consecutive posts using pinks, I made a group of cards at once and it was what was on my desk.  I'll be changing up, I'll see you soon!