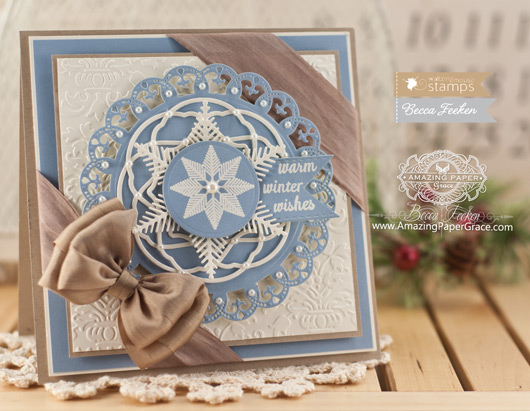 Good morning friends!  Today is release day for Waltzingmouse Stamps  and three new sets and two dies are now available – Flurries, Jolly Old Elf and Elf Made as well as a series of two label dies – Pretty Panels #1 and Pretty Panels #2.  You can see them in full HERE.  For the blog hop today please know you can always get your bearings by popping over to the Waltzingmouse Blog, otherwise if you've just come from Tosha's blog, you're in the right place and I am at the end of the line today.  Be sure to visit the Waltzingmouse Blog for the details on a Pin-it to Win it Contest.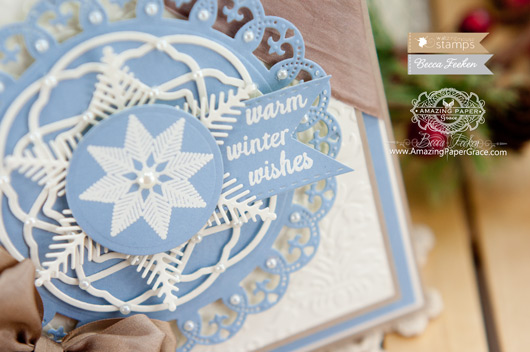 For my 5-3/4″ square card today the inspiration came from the matting layer of Pretty Panels #1.  This was pushed around on my desktop all week and in the end I decided that I would build it into a dainty border in which I could showcase Snowflake 1 Die  and a pretty stamped snowflake from Flurries.  Do you see it?   I simply took the matting layer and laid one across the other like a '+', I thought that was pretty spiffy.  Never one to exercise restraint, I did it again, so my bordering layer consists of 4 matting layer outlines all crisscrossed like an "*" asterisk you can see the progression below.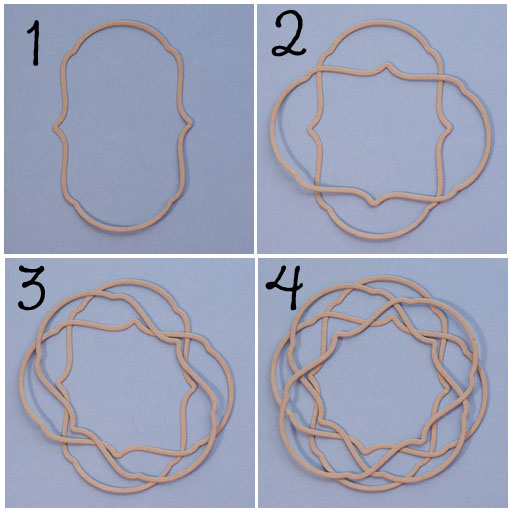 I used the Stitched Tags Die Set for my sentiment and cut a notch out of the end.  The gorgeous round die is a new die from Spellbinders called Spellbinders Royal Circle.
This adorable little elf was too cute not to make up a quick box and stamp him on a tag.  He's from the Elf Made set and there are a bunch of stamps that will work for your little ones and big little ones – if you know what I mean.  I stamped and embossed the snowflake from Flurries onto a gable box and stamped the elf on the largest tag from the Stitched Tags Die Set.  All in all, ready to go in less than 10 :-)
If you joined in to the hop midstream, you can start at the beginning by visiting Julia Aston.   In the meantime, thanks so much for stopping by and I'll see you soon!!