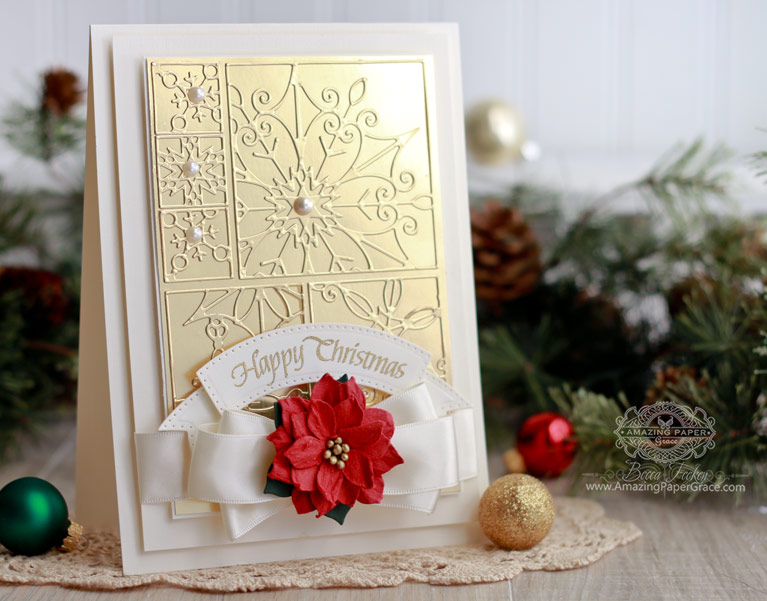 I hope you are having a good day!  Me?  Happy to say I'm in the Christmas zone!  Today I wanted to show you an easy way to get a tone-on-tone embossed look simply by gluing your die cuts to the same color paper for a subtle, but dimensional look.  In fact, the more I look at this, the more the tone-on-tone reminds me of a vintage tin tile!
Making a Tone-on-Tone Background
To get this look simply cut Spellbinders Snowflake Snippets and arrange them on your panel how you would want them to appear.  Take each die cut and dot very sparingly with Ranger Glossy Accents and adhere each down with this clear medium, one by one.  After it dries, amazingly, you have a tone-on-tone background that gives a understated but dimensional look.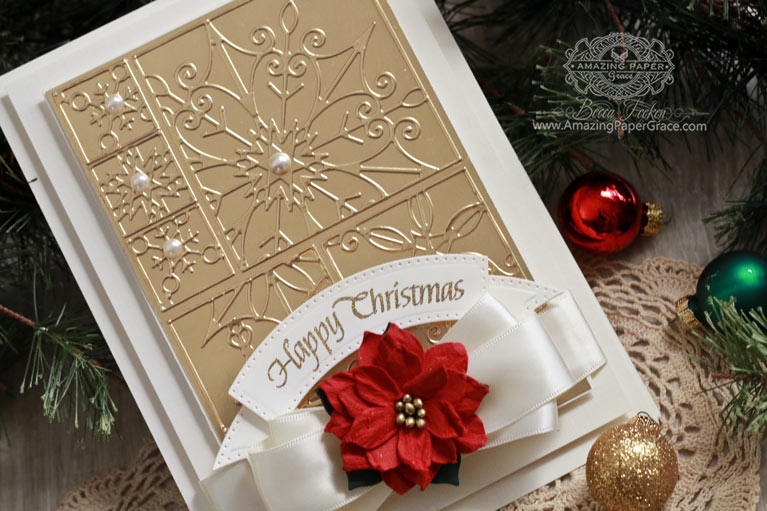 Because I didn't want to cover up my card, this was the perfect opportunity to use Vintage Pierced Banners  to add a sentiment and at the same time, echo the curve around the flower!  For the sentiment, I'm using Quietfire Design – International Christmas.  I arched the stamp on my block so that it would match the curve of the pierced banner.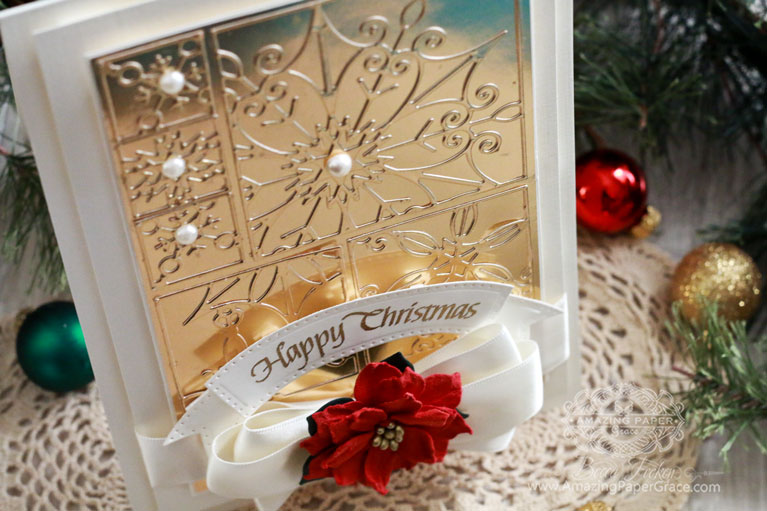 There are so many variations to this theme but from a decorative standpoint, tone-on-tone is the easiest.  The next time I try this card, I'm gonna play with the two toned look by placing some of the cream chads back into place :-)



As always the Creative Team has been, well, creative!  Here is some inspiration to tuck away!


Stamps:  Quietfire Design – International Christmas
Paper:  Neenah Classic Crest – Natural White – Cover – 80lb smooth,  Metallic Poster Board
Ink:  Versamark and Gold Embossing Powder
Accessories: Amazing Paper Grace Dies,  Spellbinders Snowflake Snippets, Spellbinders Vintage Pierced Banners,  PL-001 Platinum™  Die Cutting And Embossing Machine with 8.5″ Platform, The Paper Studio – Pearls, Satin Ribbon
All of the dies the ladies used below belong to the Chantilly Paper Lace Collection and Amazing Paper Grace Collections
Please enjoy the busyness of the season.   Everything that goes into the planning, the arranging, the worship and the giving — well, that's the sweet spot.  Savor and definitely enjoy!!