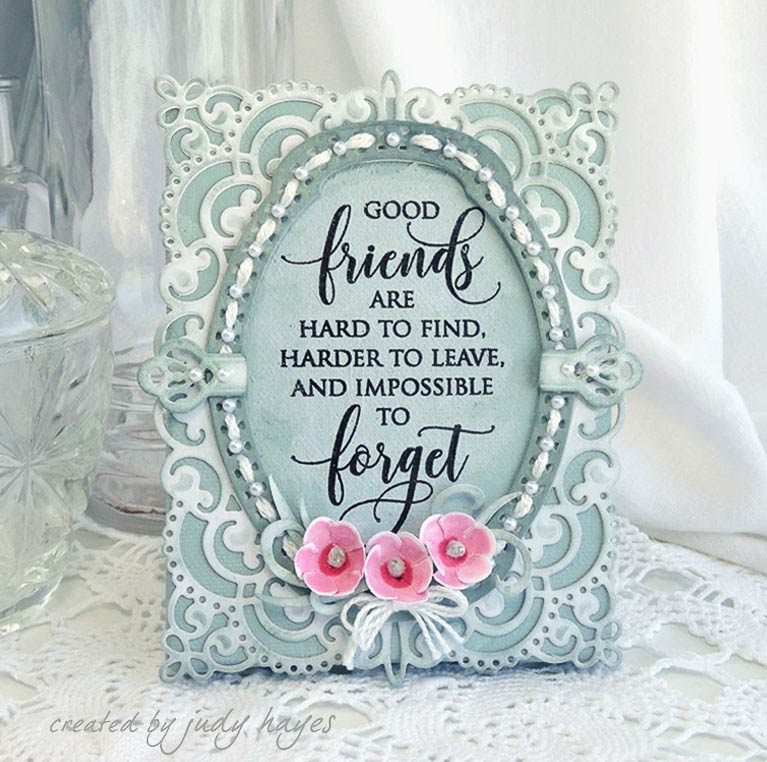 Hi there friends, I'm back from my journey.  On my last post here (which incidentally was right before leaving for AFCI – Association for Creative Industries), I mentioned that I would begin sharing picture of 3D Vignettes with 12 Days of Inspiration.  Little did I know that the demoing and walking and hustle/bustle schedule of that event would absolutely wear me out.  In the early days, many of you said you didn't know how I could create so much.  Well the back story to that is that I stayed up all night and rarely slept.  Fast forward 9 years and this old gal shuts down late at night – the will is there but the energy says tomorrow.  No worries, we have a lot of catching up to do.
In the meantime,  I have a lot to share today – an announcement – a new creative team member with a project  and new inspiration from the creative team.  Without further ado, let me introduce our newest Creative Team Member, Judy Hayes, who is sharing her first project above.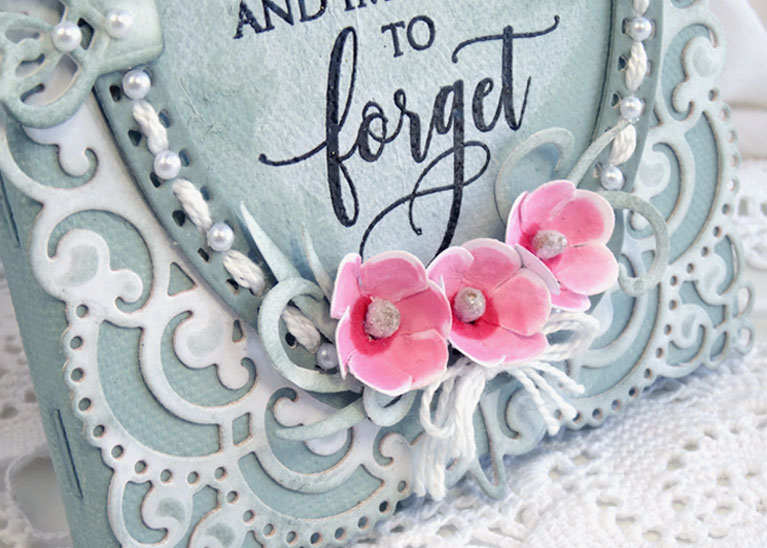 Judy is one of those people who inspects a die up and down, looking for it's strengths and hidden beauty, then she transforms it into something so unexpected and delightfully unique.   Her projects are magnificent and include the gamut from cards to off the page items using ordinary dies, papers and tools.  She inspires us all to think outside the box as we marvel over where she gets her ideas.  Just last week a group was squealing while looking at one of her projects – a 3d house where she had used photo corners for the shingles on the roof.  I just shook my head and said, that's Judy!!  I'm so tickled about the announcement – here's a little bit about her!
I'm Judy Hayes.  My husband and I live on the prairie of rural southwestern Minnesota where I'm often inspired by nature and the peace, quiet and beauty of the surrounding countryside.  I love spending time with my 3 grown children and 4 grandchildren!  I have been crafting forever, it seems!  From sewing and needlework to paper crafting and jewelry making, soldering and metal embossing, book making and even woodcrafts, I've tried them all.  Thanks to my mom for her creativity with sewing and always being able to see possibilities in any piece of fabric.  If I saw a shirt or skirt that I liked, she could always figure out how to sew it!  From that, I learned to try to make things for myself!  I really enjoy mixed media projects, especially when I can include metal or fabric and textiles.  My greatest joy comes from stretching the limits of tools and basic supplies to create something unique and out of the ordinary! 
I am tremendously honored to be on Becca's Creative Team! She is an amazing designer and very special person!   I was blessed to get to know her while I was on the Spellbinders Design Team (along with Teresa).  So grateful for this opportunity!
You can see more of Judy's work here:
Blog: http://judyhayesdesign.blogspot.com/
Instagram:  https://www.instagram.com/judesigns7
Facebook:  https://www.facebook.com/judy.hayes7
Twitter:  https://twitter.com/judesigns?lang=en
Pinterest: https://www.pinterest.com/judesigns7/
For Judy's card today, here's how she described putting it together.  This is a 4 x 5″ canvas painted with chalk paint.  The verse (Penny Black) is stamped and clear embossed on tissue paper and layered into the wet paint. I used Cinch and Go Flowers, Annabelle's Trousseau Layering Frame (cut to fit canvas), and Vintage Elegance Tiny Tags.  Pearl cotton threaded through the frame is accented with tiny pearls.  I colored the tiny flowers with markers.  Two tiny tags at edge hide cut in frame (tags were cut to fit as well).
But that's not all; there's more inspiration to share.  The Creative Team has been busy with Amazing Paper Grace Dies!!


Teresa Horner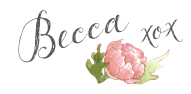 Thanks for letting me share my announcement!  I'll be back with a new card tomorrow!