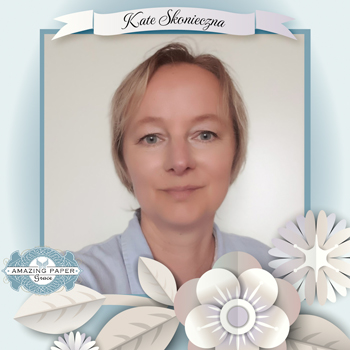 My name is Kate. I'm Polish living in Glasgow, Scotland, since 2015. I have two daughters, but they live in Poland. I have a very understanding partner who I've been with for 16 years. As a family, we love to spend time together, walking, cycling, taking photos. Photography is my second hobby. We're very enjoying going to airshows and taking pictures of military jets.
I run my own advertising and printing business.
I started making cards in 2016. They were so simple and plain. I only had a few dies then. Over time I have bought more and more stuff but from the very beginning, my first love has been Spellbinders. I enjoy trying new techniques and the last one is stamping and coloring by Copic markers.
I'm very proud to be a member of Becca's Creative Team. I've learned a lot and I'm happy that my creations can be an inspiration for others.