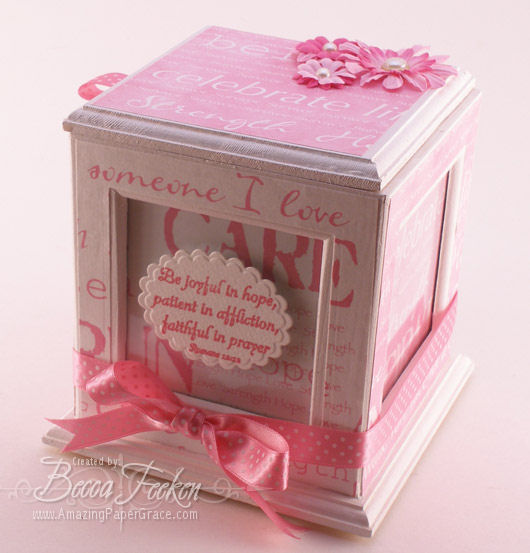 I had another project I had not shared featuring paper from the Hope Packs available at Our Daily Bread Designs. This project is a picture carousel with a removable lid for storing items. I used two of the verses from the Hope set that made their debut with Our Daily Bread Designs this month. The carousel can be used as it is now, or the inserts can be removed as pictures are added. This was an alterable that I had on hand that I wanted to use, the right occasion or project had not come along. When I saw the paper in the Hope Pack, I knew I had enough to get the carousel covered and it would be perfect along with the other pink accessories I showed earlier.
Getting the carousel covered was an easy adventure. First I painted on two coats of gesso then I cut all the papers to size (lucky me, the inside of the frames could be cut with a square nestie). The papers were all glued down and topcoated with Art Quest Perfect Paper Adhesive (Matte) which I purchased at Michaels, it is very similar to Modge Podge. Using nesties I cut the two verses and finished up with flowers, brads and ribbon.
This is the first month that I've really ever delved into alterables. It's always at the bottom of the list because there's always seems to be something else I need that is not in my stash. No so with these recent projects…I'll be more apt to do similar things in the future because it was sure easier than I thought.
Supplies:
Stamps: Our Daily Bread Designs
Paper: Available in Our Daily Bread Design – Hope Pack
Ink: Colorbox Chalk – Rouge
Accessories: Gesso, Ribbon, Fflowers, Brads, Nesties, Perfect Paper Adhesive (Matte) or Modge Podge.

Thanks so much for stopping by!