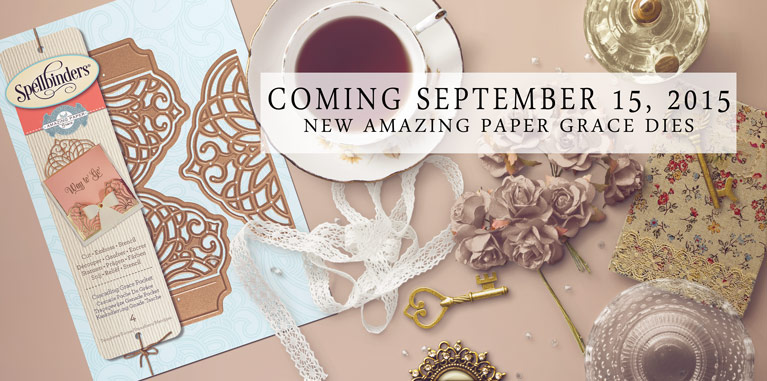 Hey there!  Today is the Grand Finale of 30 Days of Giving.  This is going to be kind of a long post so grab some coffee and let's chat.  If you're here for the giveaway, dive right the bottom of the post ;-)
A little sneak peek.
First of all, I want you all to be the first to get a peek at a new die that I'll have debuting on September 15th. Introducing Cascading Grace Pocket, one of eight new Spellbinders Dies designed by me.  Given the opportunity to spread my designing wings this new collection is classic, elegant and fun. Can all of that go together in the same description?   Well, yes it can!
So let me be a little honest with you.
When you purchase a die that I've designed, I actually make small percentage of the sale.  No, I'm not gonna be rich, but the monies go to offset the cost that it takes to run the server and services that keeps Amazingpapergrace.com up and running as well as safe and sound.  When I began I never realized what comes with growing a large site.  It's a blessing in many respects but the monthly out of pocket expense for me is a couple of hundred dollars.  I'm not comfortable asking for donations – I'd much rather earn my own way, but I am comfortable asking that if you have a crafting budget, if you can, please consider supporting www.amazingpapergrace.com with a purchase of any licensed product I design.  And one more thing – so often I get emails asking how you can help – for any blogger that gives you something of value to add to your tool arsenal or ongoing knowledge, please click on their site, visit once a day and subscribe by email.  The greatest gift you can give is by keeping them strong with the favor of your visit.  Ok, that was me being very brave. Let me remind you, here at amazingpapergrace you are never obligated to leave a comment, make a purchase or even visit but if I've given you anything that helps in your crafty journey, I'll gladly accept any support that helps me continue to run this site in the manner that's been placed upon my heart.  Like Forrest Gump says, and that's all I have to say about that.
30 Days of Giving Lives On.
When I look at comments I typically see the same names over and over – those are the regulars that come by every day.  I love that so many who come every day were able to win and ultimately I'd like to see everyone win.  I'm going to keep the days of giving going by offering a card every Friday and a thoughtful question to stir your minds and bring to the surface saving the handwritten word, handmade and the kind giving traditions that are special about this community.  What made me decide this?  Read all the comments from Day 30 – I read through them tearily as did many of you.
Finally, the Grand Finale.
Grand Finale – 30 Days of Giving – yes, that's today.  Listen, it wasn't just me giving it was you giving too!   Over the last month of reading comments, laughing, crying and riveted by the stories, I knew today would come.
So today I thought I'd cap off by giving away a little friend of mine.  I have one on my desk just like it!  It's one of my favorite machines – I give away a couple these every year.  Welp, just like some of the dies used for cards that were made a year ago – products move on as new things replace them.  This little guy will soon become rare so I wanted to be sure to have a giveaway while plates and such can still be found.    Open to all, to win a brand ew Artisan Explorer simply leave a comment on this post any time between today and midnight (Central US Time) on August 3 to win.  In your comment let me know one of your favorite days of the 30 Days of Giving and why – was it the card, the other comments, what it stirred in you to write in your comment?  As always, you can leave one comment per day.  A winner will be posted to the Giveaway Page on August 4th.  Please check back and send me your address if it is you.  I'll give the winner a week (7 full days) to claim their prize sending their address.  If not claimed, the prize will be offered at a later date.


Thank you from the bottom of my heart.  This Giving Event has been on my heart for a long time – I was just afraid to do it (hmmm – this sure ties back to card on Day 30).  I didn't know if anyone would really care or if I would have the time to show up every day to tend to the little things.  Well it must have been meant to be because everything aligned perfectly for a lovely experience.   Thank you, it's the readers here that make things work :-)