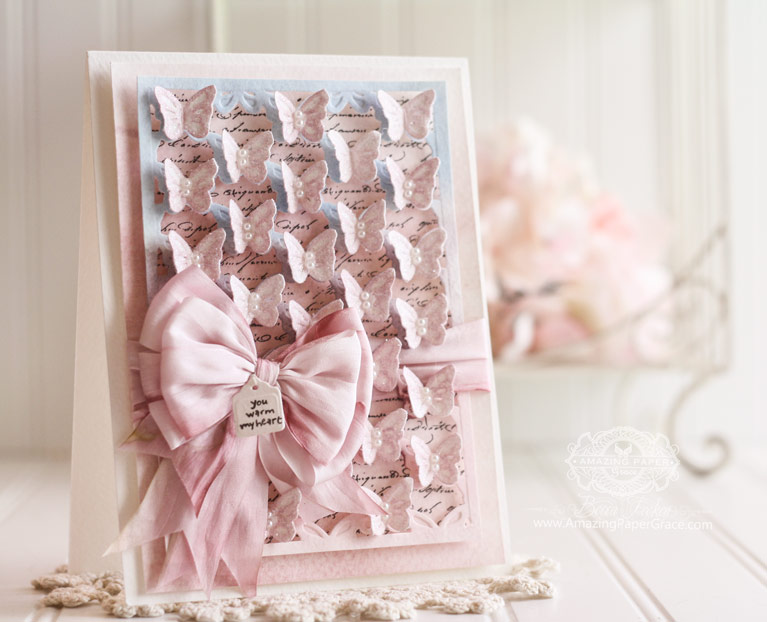 Hello friends, I just wanted to let you know that I made it through my foot surgery with no problems, I'm so very thankful. My sweet mother is here waiting on me hand and foot – another thing I'm extremely grateful for.  I certainly didn't want to miss Day of Friday Giving so I have a card to share – one of my favorites. This one features a tiny tag to personalize the card – that way I could have a whole card front that I didn't obsure with a panel and a sentiment.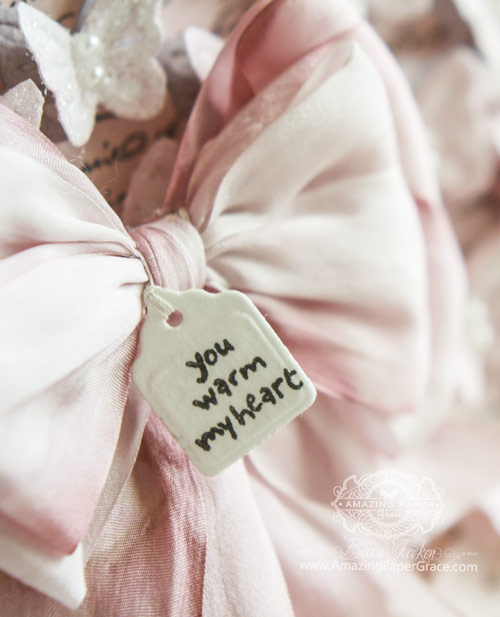 Walk Through on How to Make Card
1.  The card base is 5-1/2 x 7-1/2.
2.  On top of the base I added a layer created by washing with pink watercolor, on watercolor paper and stamping with a script stamp.
3.  On top of the watercolor wash layer I added Spellbinders Butterflies that I also washed with watercolor.
4.  The dimension is added by cutting an additional Spellbinders Butterflies layer (spray with spray adhesive, sprinkle glitter and add pearls).  Then snip each butterfly to free it, fold in half and adhere on top of each existing butterfly with a drop from your mini glue gun.
5.   Add ribbon, bow any tiny tag to personalize.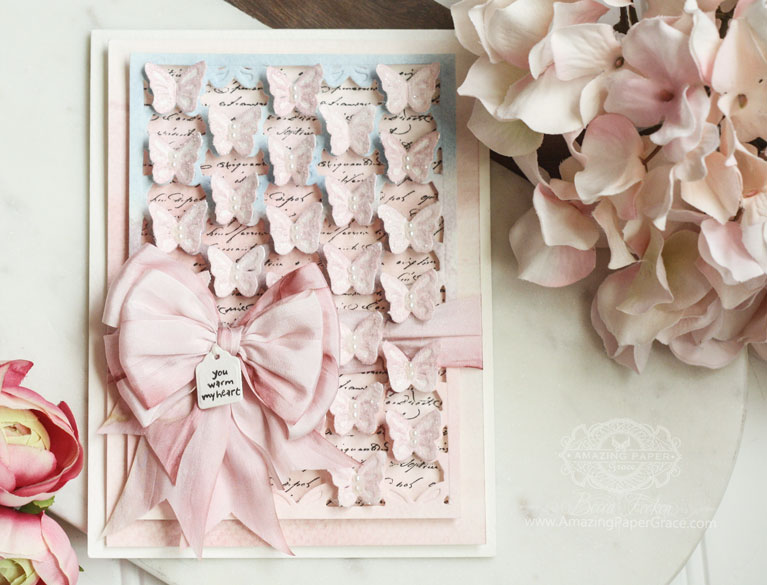 About Day of Giving Friday
The good news is that I am caught up and have sent out every card I have an address for!!  Every Friday it's my pleasure to give away a card.   The card goes to a randomly picked reader (worldwide) who leaves a comment in our conversation. Want to know more about Day of Giving, here's a link to my FAQ's just check out #11.  You can check to see if your name is on the list of winners HERE.  For your comment today:  Flowers are such a sweet, positive thing – what's your favorite flower?



Rubber Stamps: Wordsworth Stamps – Thanks Collection
Craft Paper: Strathmore Watercolor Paper – 140lb – 12″x 18″
Ink:  Versafine – Black Onyx, Ranger Super Fine Detail Embossing Powder
Accessories: Spellbinders Butterflies, Assorted Ranger Reinkers, Ranger Glitter, The Paper Studio Pearls, May Arts Silk Ribbon


Sweet friends have a lovely weekend.  Please know I'll be praying for our foreign friends that have endured such a wicked tragedy.  Good will prevail.