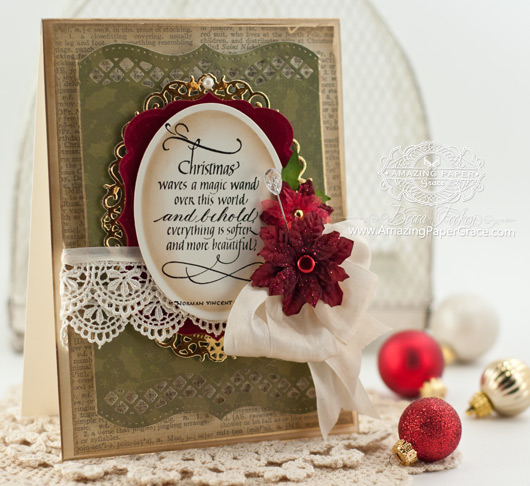 Good morning friends!  Today I'm sharing a Christmas card with you using a brand new, beautiful sentiment from Quietfire Design!  Oh goodness, it's beautifully penned by Suzanne Cannon and commands center stage on the card.  I thought that the elegance of her script called for a traditional card so I reached for the deep red, forest green and gold.  For my layers I used Spellbinders Floral Ovals, Spellbinders A2 Bracket Borders One, Spellbinders Labels Thirty Nine and the oval from Spellbinders Filigree Delight.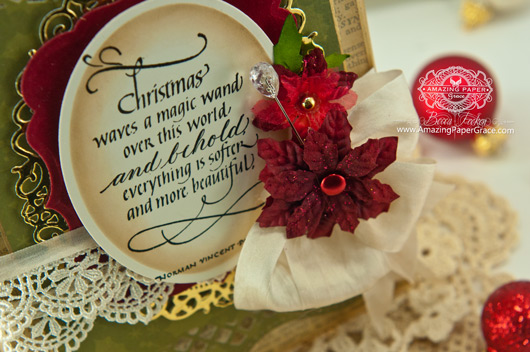 I started out with a 5-1/2″ x 7-1/2″ card base and added a layer of design paper with a text design.  Next I added green design paper and cut Bracket Borders One on each end.   The sentiment is stamped on the oval from Filigree Delight then stacked on top of Labels Thirty Nine and then finally stacked onto Floral Ovals.  Slowly but surely I am adding to my stash of cards for Christmas and this beautiful sentiment is a great addition to my collection of Christmas sayings:-)
How are you coming on your Christmas cards?  Do you space them out over time or are you a last minute Lucy?  Lol, I'm a little of both – I space them out until I realize how close we are to the date, then I panic and the frenzy starts!  Thanks so much for stopping by friends, I'll see you soon!!