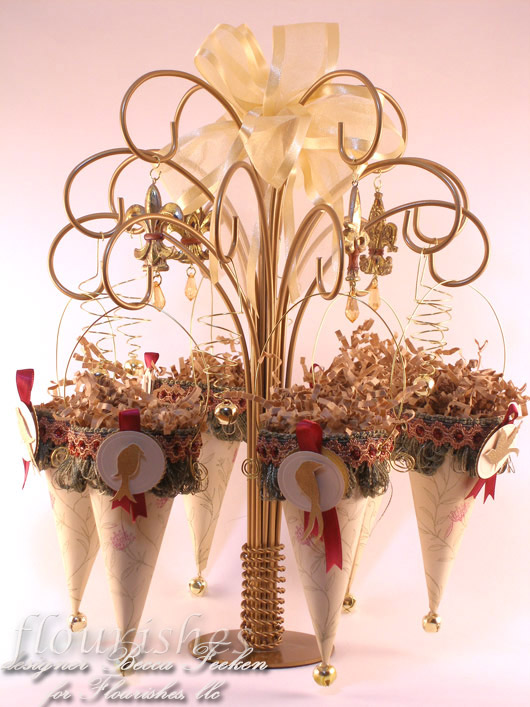 I have always loved the idea of Tussie Mussies and I finally got the opportunity to make some. A Tussie Mussie is a small bouquet of flowers but the definition in current times also extends to the cone-shaped holder for the bouquet.
I was actually going to make some to go on my Christmas tree and then I began thinking what a wonderful option they would be to store small gifts. Then I remembered this ornament stand that I have had forever but have never had ornaments worthy of that kind of showcase. I thought that if I could make a Tussie Mussie tree, it could be on display on a table near my Christmas tree and hold the trinket gifts that always seem to get trampled on or lost.
I used the new Flourishes Birds and Vine Set, I love that set, it's absolutely dreamy. The vine stamp itself is huge and fits on your largest acrylic block and there is so much variety with the five different birds included in the set . . the possibilities are endless. At any rate, I felt the foliage and the birds would give me a Christmassy, vintage feel.
I selected a tan paper and stamped the leaves with SU Mellow Moss and singled out the flowers with a Warm Red Colorbox Chalk Inks Cat Eye. I sponged on Antique Linen Distress Ink to vary the tone of the paper. Then I made each cone, attaching a bell and embellishing with trim. The Tussie Mussie is finished with a Nestability medallion featuring one of the five wonderful birds. To hang it I fashioned a handle out of wire and added a couple of curlycues. Since I was on the curlycue kick, I made a long dangling curlycue and hung a bell from the end as an ornament – it helped me fill out the tree without taking too much attention off of the Tussie Mussie.
Supplies:
Stamps: Flourishes Birds and Vine Set
Paper: Die Cuts with a View – Tan
Ink: SU Mellow Moss, Colorbox Chalk Inks – Warm Red
Accessories: Trim, Ribbon, Eyelets, Crinkle Gift Filler Paper, Wire 20 Gauge, Bells, Red Sticky Tape, Twine, Nestabilities
Thank you so much for stopping by. I am working on many things – several seem to be quite time consuming, so thanks for your patience – I'll have things to show very soon.