Hey, if you'd like a chance winning some design paper, scroll down to the next post or click —>HERE<—- to leave a comment!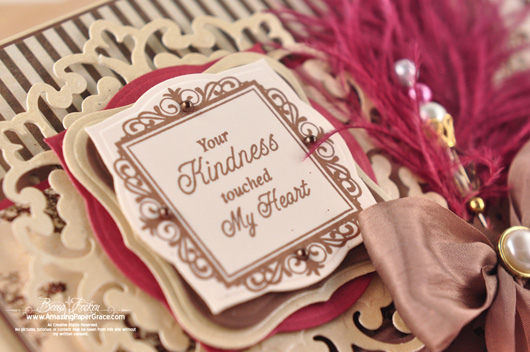 Happy Friday Sweet Friends!!  I hope you have lots of R&R planned for the weekend.  I do have a new card to share today and in view of all the festivities, pomp and grandiosity of the day I thought I would dress up my card, so my card is donning a feather.  My daughter asked why I would make such a highfalutin card!  Over the past couple of days there has been so much talk of "fascinators" and feathers and such that, I thought, why not?  Feathers are kind of fun and you can't get away with using them every day!  I'm using one of the April releases from JustRite Stampers called Signs of Life from their Cling Collection.  The sentiment was desgined to match Spellbinders Labels Three and It fits perfectly with enough room to layer it up :-)
My medallion is made from Spellbinders Parisian Motifs followed by Spellbinders Labels Three, Spellbinders Labels One SM, Spellbinders Labels One and finally one more layer of Spellbinders Three :-)  That's about all for today.  I'm out the door to take care of some business – where in the world did the week go?

Blessings to you all, I'll see you soon!!