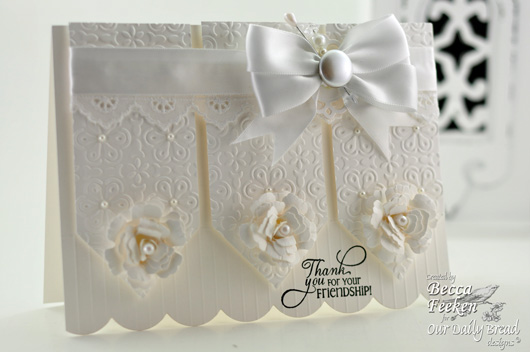 Hi there blog friends!  I have a new card to share, but thought I'd keep the post short and sweet since I have family visiting.  Since I spent a bit of time cataloging my embossing folders, I was inspired by all that luscious texture and wanted to capture it in a card.  I thought the embossing was so exquisite that I decided to stick to one color so that the embossing would take center stage.  Imagine that, making a paper choice within a couple of minutes – are you with me?  My card is 5.5″ tall by 7.5″ wide.  I started out by cutting the scallop bottom using Spellbinders™ Classic Scallop Edgeabilities.  I then cut three 2.25″ strips, trimmed them to points, embossed each using Spellbinders™ Elegance M-Bossabilities (Side B), placed small pearls on each flower motif then attached the strips to my card. Once I could see where each of my points would fall I could gauge where to put my sentiment from Our Daily Bread Designs – Flourished Verses set.  Spellbinders™ Bitty Blossoms grace the bottom of each strip right above their point.  I let my satin ribbon and eyelet lace span the top of the card and perched the triple bow made with the Peg Bow Maker on top of Spellbinders™ Picot Edged Circles before attaching to the card.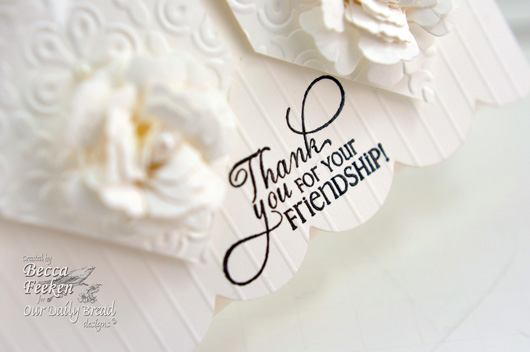 This is an easy format card with a dressy look, that can be changed up for Wedding, Christening, Anniversary, New Baby, Easter . . . I can think of many so more.  Imagine just putting some soft color in on the embossed flowers and echoing that soft color in the ribbon!   No matter the occasion, it's a great way to show off some embossing, so this one goes into my card file for when I need a quick card – I hope I've given you an idea to tuck away for a rainy day :-) 
I'm having an absolutely lovely time with my sweet son!  Thanks so much for reminding me how very important it is!!  You're the best!!  Smooches, see you soon!!