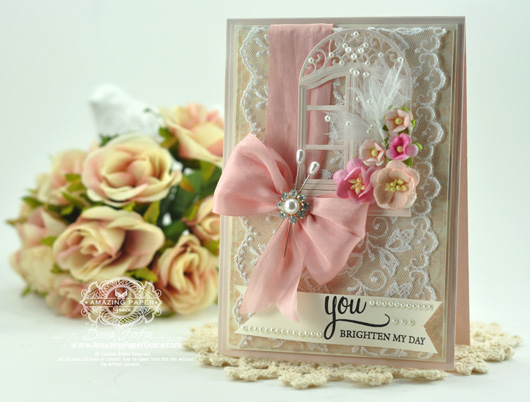 Hello there sweet blog friends!  Today is a glorious day and I hope you are basking in it.  I'm elbow deep in a bunch of projects and I hope that in the near future you'll be able to see what I do when I'm not actively blogging.  On top of that, I seem to be renovating every corner of my life – I knew it would happen when the time was right, and not before — so stay tuned.  In the mean time, I wonder how many of you have local stamp stores and local scrapbooking stores?  I'm big on local support and my closest local stamp store is an online store — I have a teeny bit of driving to get there, but it's a treat knowing that so much creativity is going on right down the road from me.  My local online stamp store is Flourishes — in Pensacola, Florida.   I'm on the teaching roster for a one day class that will be held there on April 20th, 2013.   It's an intimate little studio setting and my goal is to take the stress out of bows.  If you interested, check out the details —–> HERE.  In the meantime, I received some little Flourishes goodies and I whipped up this card – perhaps, just perhaps it had a little bit to do with my spring fever as well :-)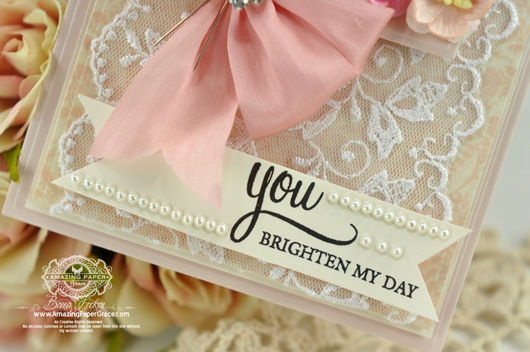 I created my card base using Spellbinders™ 5×7 Matting Basics A using the technique that I showed you on how to make a Hinged Card.  I used Spellbinders™ 5×7 Matting Basics B for the layers then covered the top layer with my favorite lace.  This window, Spellbinders™ Window Two simply speaks my name!  I filled it with flowers and pearls and added a bow.  A hand cut banner spans the bottom with a sentiment from Inside & Out – You.
You all bless me!!  I am so grateful, I just can't say it enough :-)  Blessed wishes, always!