I hope yours was a glorious day, mine certainly was. It was just a day that everything clicked – I got so much done around the house. Today I got around to pulling out a new stamp set that hasn't laid around for years and years – so I'm assuming it's pretty current. The stamp set I chose was a Wordsworth acrylic set – and since I'm trying to change things up a bit and work outside of my comfort zone – I picked something that definitely was not my normal style. There was a larger sentiment in the set that I was drawn to – but for this card, I pulled together other smaller stamps from the set. I love the flower in this set…it has the outline and the solid inner shape. Even though I seasoned the stamp, I found it didn't take the ink as well as I wanted, so through the miracle of acrylic I was able to line it up and add a second coat of ink.
I had fits getting a true representation of the colors on the photo above, the bottom picture is a truer reflection of the colors – an apricot design paper accented by a moss or sage green.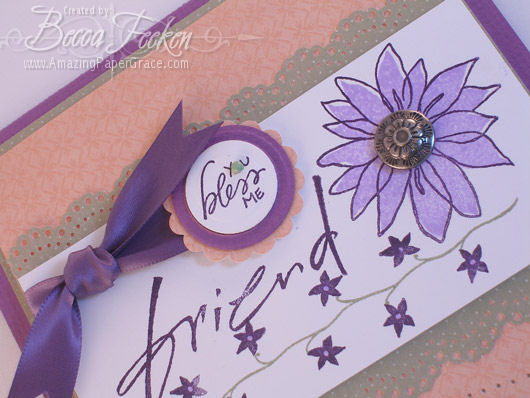 Supplies:
Stamps: Wordsworth Stamps – Friends Collection
Inks: SU Mellow Moss, SU Elegant Eggplant, SU Lavender Lace
Paper: Bazzill; Marcella Kay – Bungalow
Accessories: Nestabilities, Brads, ribbon, ornare template, Martha Stewart Scallop Border Punch
Thank you so much for stopping by! I'm so tickled to get to know some of you through your comments. Have a blessed day!