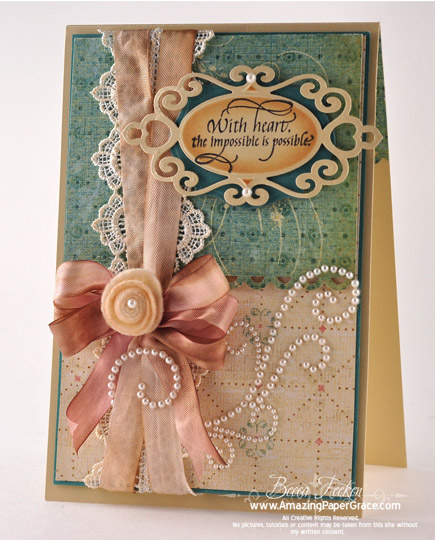 Rescued from the scrap pile!!  Isn't that every piece of paper's dream?  Here's my reasoning . . . if I've used it before then I must have love it!  I needed a quick card last night so I hit the scrap pile (sits next to the reject pile).  This was the left over from a pocket calendar that I did so I just shaved off the top of the pocket so that I would have a top panel.  The colors already worked, so in my process, that eliminated the hours I take to select paper (I think it is a sickness, lol).  I wanted to showcase this new sentiment (love, love, love) from Quietfire Design called With Heart, the Impossible Is Possible.  It's so simple, pretty and true and just my luck that I could get it to fit inside Spellbinders Fancy Tags Two (backed with Spellbinders Labels Eighteen).  If that's a sign of things to come – bring it!!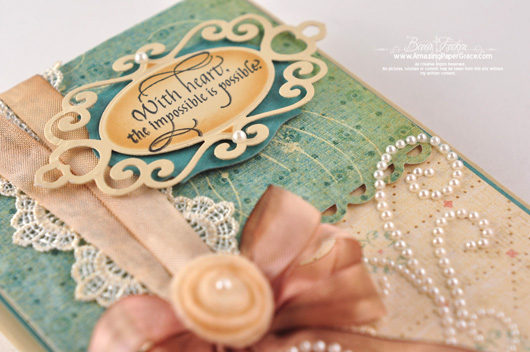 Not much to detail on this card, I gathered up my lace, seam binding and pearls and voila!!
Yesterday I had a little a-ha moment that makes me almost embarrassed that I tend to be a little bit impatient.  I had to pick up a couple…(okay 12) sheets of paper at Michaels for a project I'm currently working on.  Because it is, what it is, each sheet of paper has to be rung up individually.  The lady in line behind me kept tapping her foot, tapping her fingers, sighing, looking around and then a hrmph.  A minute later, tapping the foot, tapping the fingers, sigh, hrmph. (It became so patterned that I probably could have filled in for her, lol!!).   My goodness, she was sooooo over the top with it that I learned how truly unattractive being impatient is.  I had to bite my lip not to say something to protect the clerk (a very senior lady that is finding herself having to work again).  I'm fortunate, my Michaels is a dream and everyone there is soooo nice. 

Smooches friends, I'll see you soon!!  I know I don't really have to say this but . . . be nice to clerks, we may find ourselves there, some day.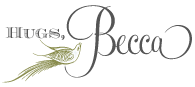 Find more like this: Quietfire Design, Spellbinders